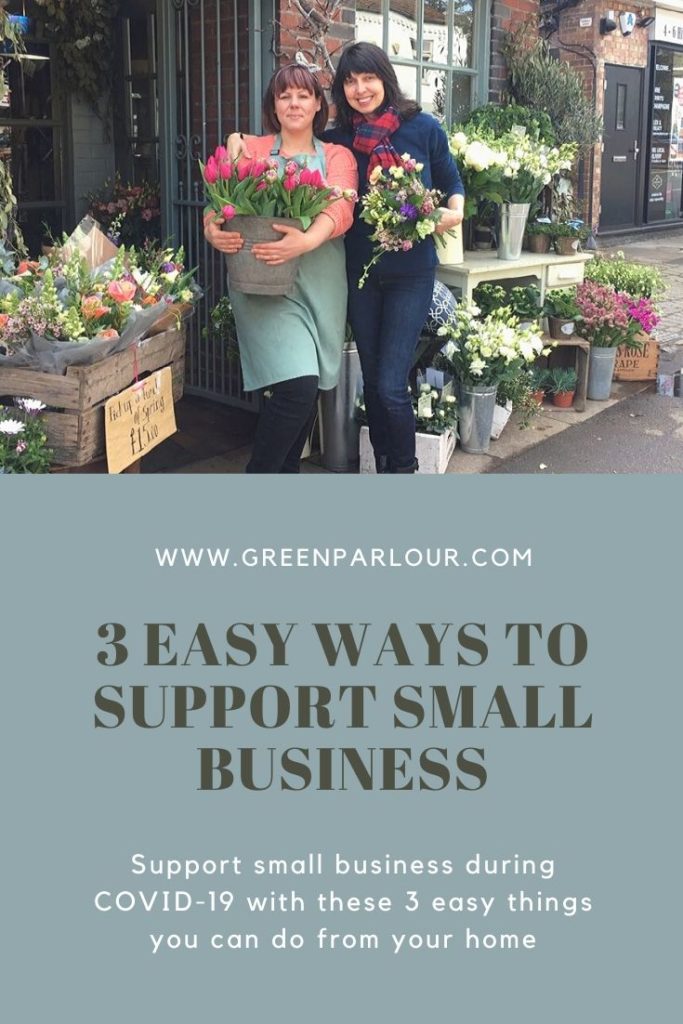 I have been so lucky to receive some wonderful messages of love and support from our community offering support during COVID-19.Many have offered words of encouragement and other customers have messages me asking if we are delivering because they specifically want to give business to a small indie company. Also consider if you have any technical abilities you could share with a local business that may need your help - marketing/blog writing/graphics are some of the ones that come to mind!

All of these are great ways to show your favourite SME you care, but there are some other things you may be able to do to support the wonderful world of small business during this time. 

One - write a google review

This is probably the number one thing you may be able to do to support a SME business for free! Write them a positive review on google. Reviews are a fantastic way to let a small business know you value them, and the service they provide, but did you also know it really boosts their website ranking as well. We are used to leaving reviews on Facebook, but whilst these are great directly on the platform, the reviews don't provide any extra boost to a companies website. Unfortunately leaving reviews on google is not quite as easy as on the social platforms, but here is how you can do it:
If you've been given a link
If the small company has provided a link to leave a review, follow that and it will take you to a login page that looks like it is specifically for Google. You can actually log in here with any email address and it will allow you to leave a review.
If you don't have a link
If you don't have a link, search the business in Google and it will come up with a  side bar detailing the business. Simply click on the reviews and you will see a box appear saying"write a review" this will then take you to the login page that looks like it is specifically for Google. You can actually log in here with any email address and it will allow you to leave a review.
Need some ideas on what to say? You could mention things like:
-what you thought of the customer service, and how the company understood you
Your excellent customer service experience
Your favourite part of dealing with the company
Why you would choose to use them again
If you had a great experience at an event they were holding
If you thought it was good value for money
Here is the link if you'd like to leave us a positive Google review

Two - buy a gift card for future use
If there are businesses that you use regularly that cannot open during this time you may consider buying a gift card for future use. I'm about to do this for a meal out we were hoping to have, but equally it would be great for a family photo shoot, a bunch of flowers, a bread making experience, a floatation experience ... the list goes on! Most vouchers are redeemable for at least a year, and I know that a lot of SME's are extending the expiry dates to be flexible for the consumer.
If you don't see something on their site about gift vouchers, drop them an email. They will appreciate hearing from you.

Three - search out some local independent companies for your basics
There are so many local bakers, farmers, flour producers, egg suppliers that have had their turnover hit because they normally supply cafe's and restaurants. These companies are now supplying direct to consumers and you can get some FANTASTIC produce! We are about to sign up to a local bakery for weekly deliveries of sourdough and their veg boxes. They also provide local cheese, eggs and all sorts of other basics (including bread flour!)
A lot of these companies are using Instagram to publish their availability, so it may be worth searching your local area. If you are local to Reading, UK and want some recommendations you can leave a comment on the blog (this is also a great way to support SME's web presence) or send me an email and I'll send you a list of those I love.
It would also be wrong not to mention all those small companies that have mananged to pivot their whole business incredibly quickly. There will certainly be some business winners during this time and I hope many of them are small businesses.  Topping my list of businesses who have done incredibly well at pivoting their offerings  are all the bakeries and local farms offering veg boxes of local produce.
There is quite a lot you can do to support small and medium sized businesses during this time. I'm wondering if you have any other thoughts on what you can do to support some of your favourite businesses? Or perhaps you are a small business and have some other ideas on how people can support your company? Leave me a comment below
Emma x