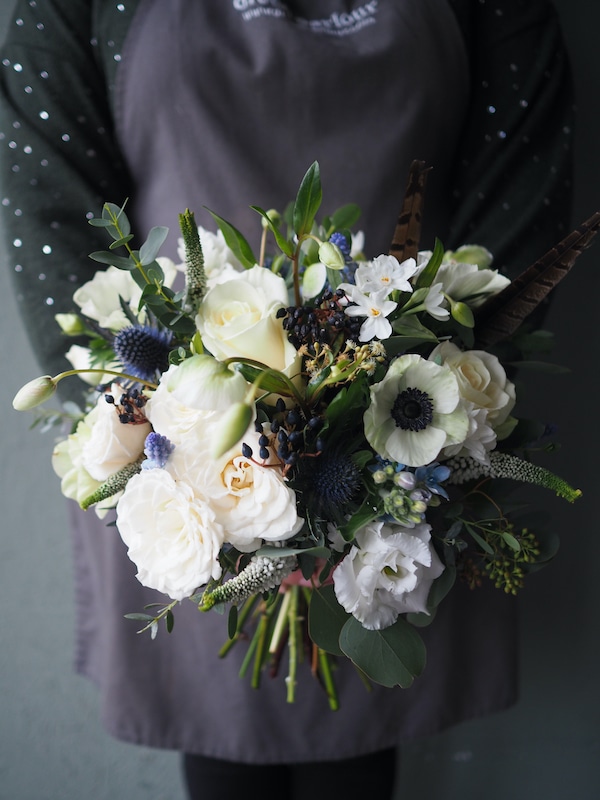 Winter wedding flowers at Wasing Park
Rowena and Josh chose to have their New Years Eve wedding at Wasing Park and what a day it was. I love flowering up at Wasing Park - it has a wonderfully laid back, yet sophisticated atmosphere. Perfect for a New Years Eve wedding celebration. The brief was my ideal for that time of year - crisp whites, fresh but with a hint of winter. The statement florals here were all about adding height to the barn - you cannot beat candelabras and layers upon layers of candles for the ultimate New Years Eve sparkle.
The flowers for the bridal party
Winter - not always the most abundant time for flowers, so its all about maximizing on textures. It seems silly that we're not quite out of dDcember and yet we can get hold of a wide array of spring flowers. I did keep it seasonal with some heavenly scented paperwhites, hellebores and viburnum and then just a little sneak of spring as the promise of things to come.
The colour palette is everything at this time of year. I'm sure you'll agree having something bright and glaring (pinks and oranges) would have looked quite wrong. Rowena chose that gorgeous fresh palette of whites and just the slightest glaze of blue to add a bit of depth. Lots of greens as ever and a moment or two of feathers as a nod to their country location.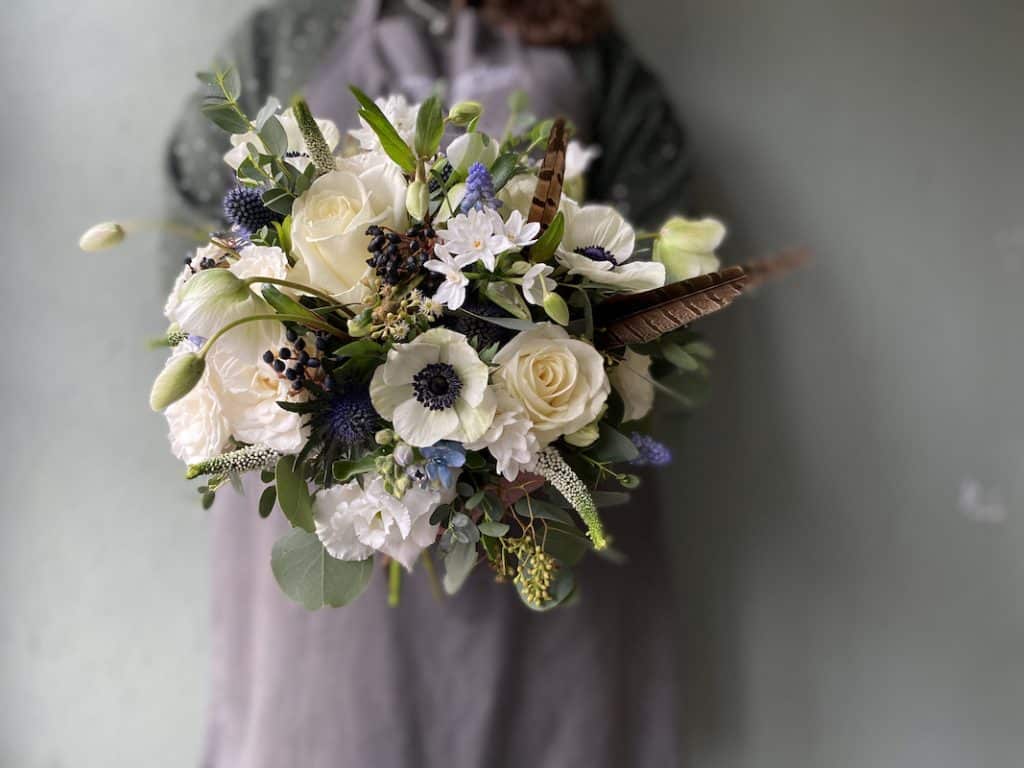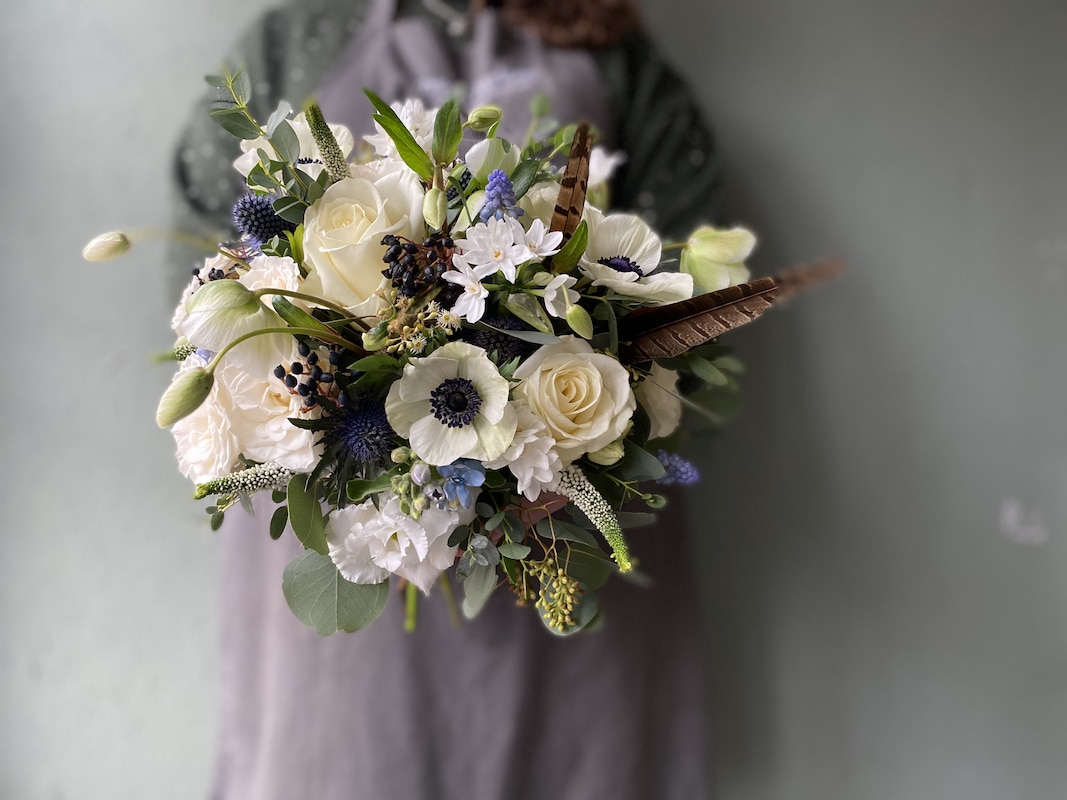 I loved Rowena's bouquet - it had lots of sentimental moments within, which I wont digress here for they are very personal. I just wanted to highlight that once again I work on trying to capture a person and couple within the arrangements I produce. It's never a case of "I saw this on Pinterest" I want to work with you to interpret your inspiration and make the flowers your own. I'm sure you don't want an identikit wedding. It's personal and so each element should reflect you.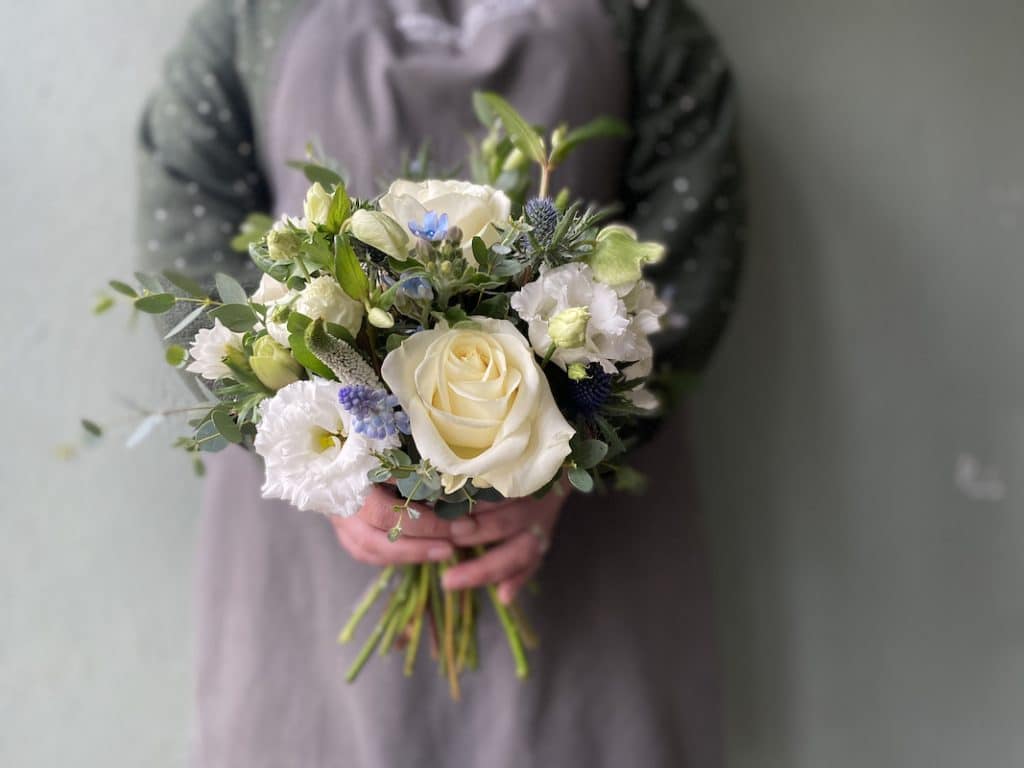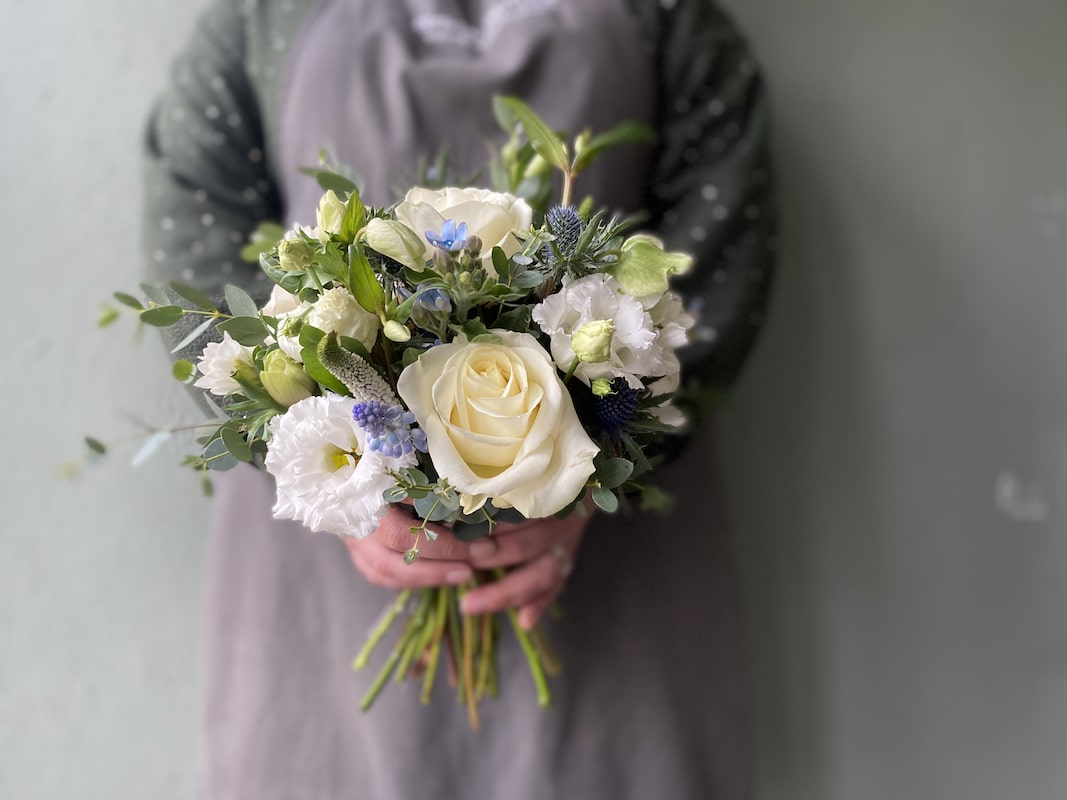 The bridesmaids held a simpler bouquet but following along the same lines. Smaller, more compact but still equally beautiful for them to hold. It's always important to have a visual size difference in the bouquets - especially for the group photos. The bridesmaids bouquets play a supporting role to the bridal bouquet which is the main event.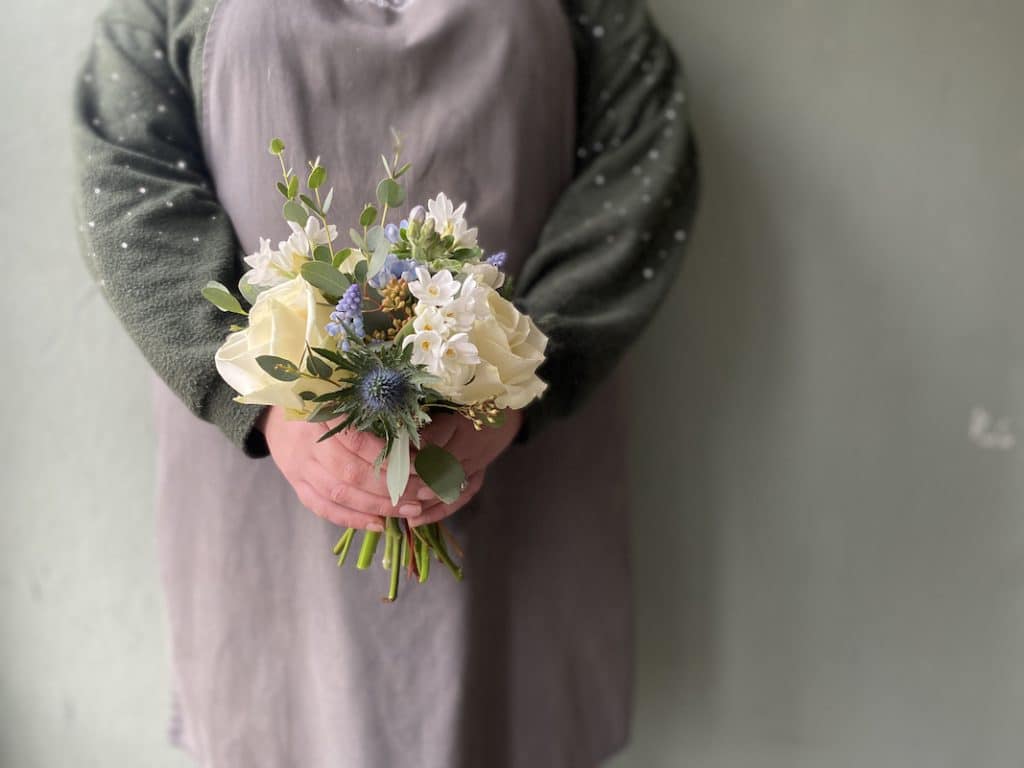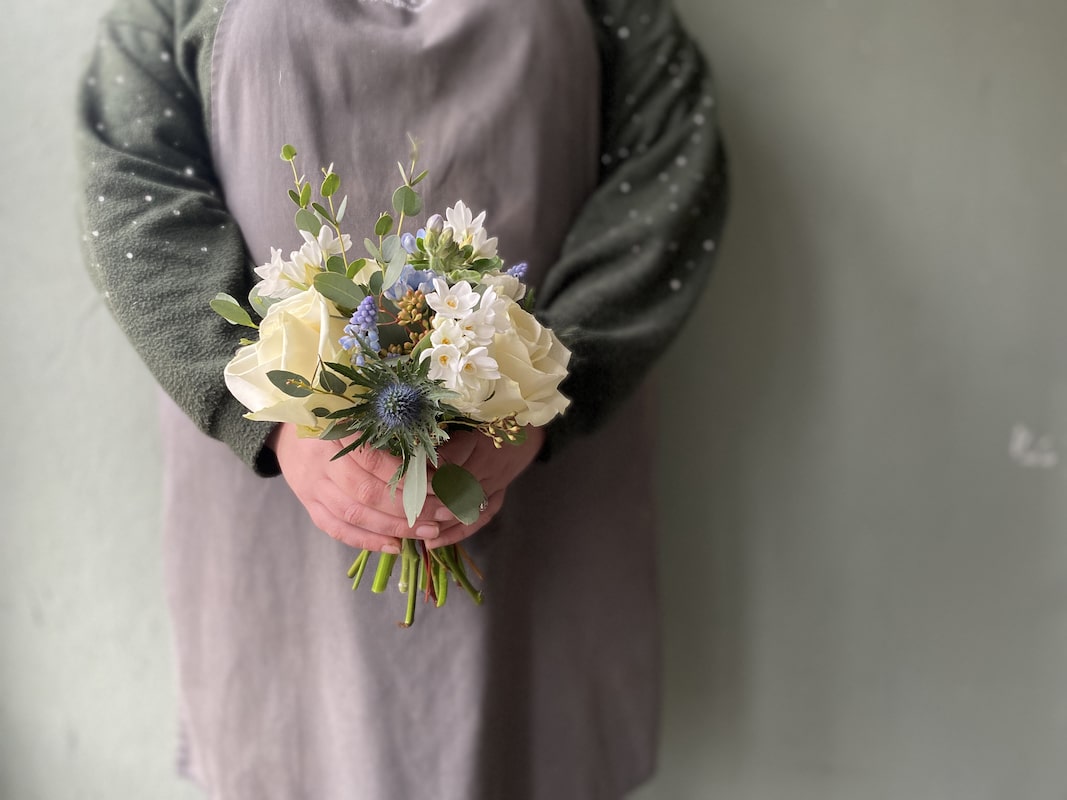 The flower girl held the sweetest miniature version of the bridesmaids bouquets. A perfect little accompaniment to her outfit and not so large it became cumbersome to carry.
The bridal bouquet
I just wanted to give one more moment of glory to the bridal bouquet! If you want to see it moving in all its glory, you can click on the picture below and it will take you to an Instagram reel where you see it in all its glory.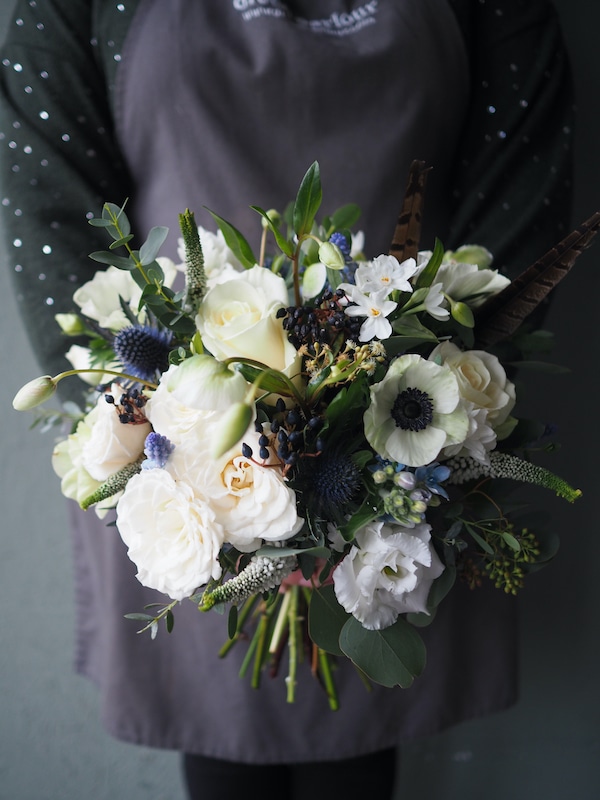 ---
Wedding Flowers in Wasing Park
Wasing Park is another perfect blank canvas. I've done colour galore in here, little vases, long tables ... you can really make it your own. What I would suggest though is that you consider some height. We were lucky here that the budget allowed tall arrangements on every table, but even if you budget doesnt stretch to that I'd say a few tall arrangements really lift the space and give it that 'wow' as your guests enter.
I love mix and match tables and luckily Rowena does to - some housed large central glass vases and others silver candelabras. Each was decorated with layers of candlelight using coloured taper candles and a selection of tea lights on the tables. Layering your tables with lots of different elements and designs is equally as important as having lots of different textures within your flower displays.
Large glass conical vases were filled with loose arrangements of flowers and complimented with coloured taper candles and tealights around the base. A simple mirror tile helped throw more light up towards the ceiling, creating a magical atmosphere.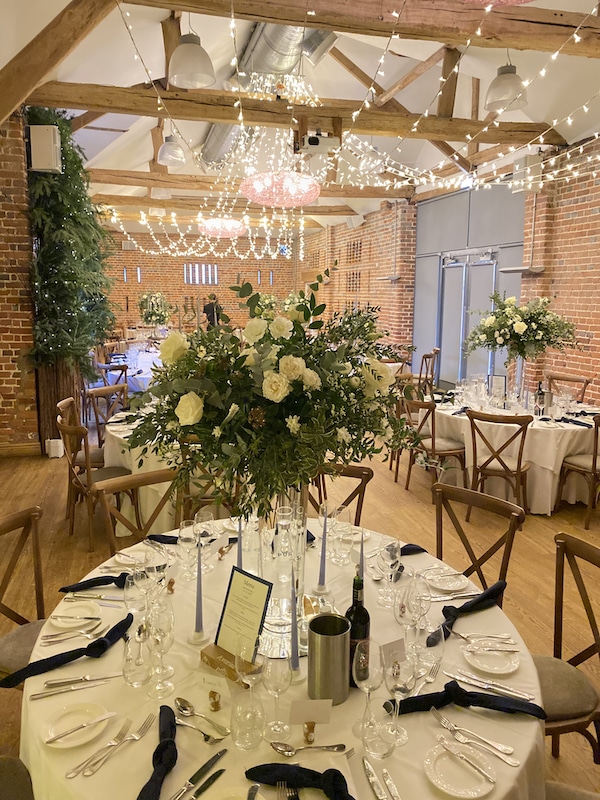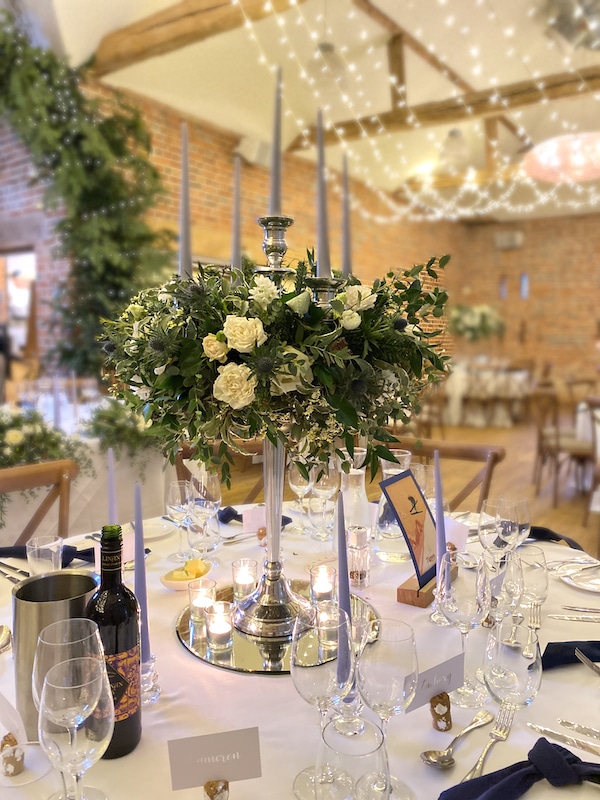 Elegant silver candelabras sat on alternating tables. Each was filled with flowers from the bridal party with lots of gorgeous texture coming through.
As ever its all about those finishing touches - coloured napkins really bring another dimension to the table and the personalisation with bespoke table names and place settings. Those finishing touches, however small make your wedding all about you.
---
If you're getting married at Wasing Park and want some advise on wedding flowers I'd love to chat. You can find out more about our wedding flower service by clicking the link below.
---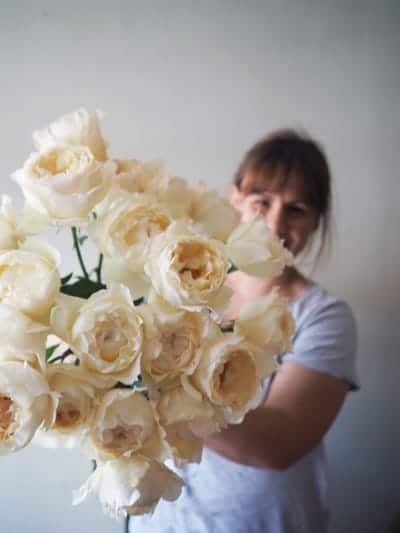 ---