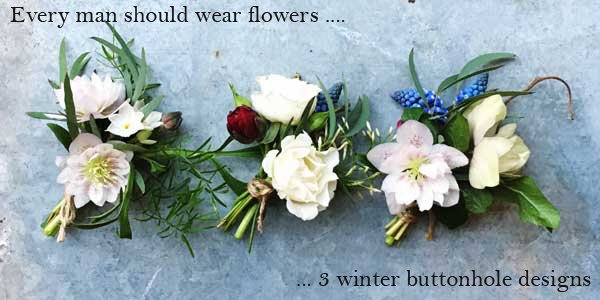 Every man should wear flowers … and not just on his wedding day. I'm such a firm believe in this – a little nod to the seasons pinned onto ones jacket certainly gives the wearer such an air of distinction it would be a shame to limit this effect just to your wedding day.
And boys, guess what – you don't have to wear a single rose with a teeny tiny leaf … no! The modern man dons a tiny collection of fleurs fully embracing the season. Here to inspire (as always) are 3 of our winter buttonhole recipes (or if your feeling awfully posh, boutonnieres)
I'm still pinning down a name to call them, I know everyone KNOWS what a buttonhole is, but it just sounds so … none floral! Perhaps a floral jacket pin … or a jacket posy …. Ideas very much welcome!