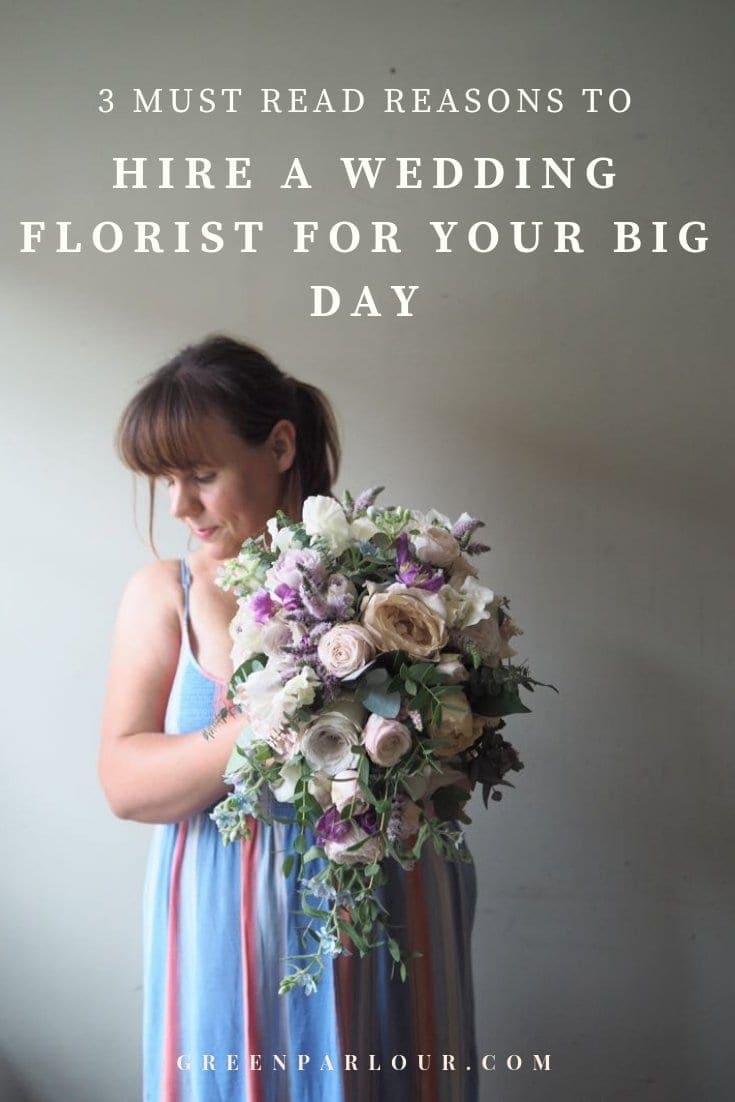 Are you about to delve into the world of wedding planning? I'm guessing you've set up some Pinterest boards for inspiration and there are at least 2 relating to DIY'ing your wedding flowers. I am not about to bash DIY weddings, BUT I am going to share with you 3 reasons WHY you should hire a professional wedding florist and tell you it could actually SAVE you money.
I've been doing flowers for weddings for over 10 years and I've seen it all! I think we should just get the elephant in the room straight out of the way. I don't blame you if your thinking "of course a florist wants people to use a florist for wedding flowers" My experience doesn't just come from weddings I've been hired to floral up. Goodness no! I decided to DIY most of my big day and I want to share some honest advise on the bonuses of hiring a professional.
First up let's talk about cost …
Lots of people DIY their wedding to save on cost. I get it, weddings can be hugely expensive! But here's the thing, DIY can actually end up costing you MORE than hiring a professional. This is especially true with flowers.
You've decided to DIY your flowers and the first stop 2 days before you say I do is the flower market. You get up at some ungodly hour and head to market. You have the cost of the petrol and an entrance fee to the market and that's before you've even picked up a flower. The market is like some amazing floral emporium, it is honestly like a flower addict's heaven in there, and trust me it is SUPER easy to get carried away. Before you know it you've picked up well over £600 worth of flowers and that's before containers, transporting them, tools …
Top Tip if you are going to DIY is make sure you've worked out what flowers you need in advance and also how many stems you think may go into each arrangement. It's easy to get carried away in the flower market.
You also want to think about minimum quantities, this is where you can absolutely get stung and where it is such an advantage to use a professional florist. Instead of needing 10 stems, you have to buy 50. Crikes! That's 40 more flowers than you need and believe me that so quickly adds up!
Also the market is predominantly meant for trade use, yes you can absolutely visit most markets but it's always worth considering that you probably wont get the best rate. These traders know who's shopping for business and who's there to DIY. They know the florists, their regulars, they see them day in and day out and it goes without saying they are going to get a better rate than you are.
When you hire a professional florist you are paying for their time, them sourcing the flowers for you and their knowledge of how many stems you need for each arrangement so you don't over buy and a fair cost for each stem.
---
Knowing what's in season and what to use
This is where a florist really comes into their own! A superb florist should know what's going to look amazing, be the best quality and at the best price. There are so many flowers that are available all year round, and whilst Pinterest is absolutely amazing at giving you an insight into what could be around, I wouldn't take every pin as gospel.
Also knowing what to use is a huge skill. Some things look great in jars but will get completely lost in a large arrangement. Equally something like a hydrangea may look mind-blowing in a pedestal and then completely out of proportion in a little jam jar.
Hiring a pro, can completely take away all the stress of knowing where to start with choosing the right florals. And that stress relief is worth its weight in petals. Trust me.
---
Then there's the time it takes to arrange the flowers
This is probably the thing that people find most stressful when they DIY their wedding, and for me it is the biggest reason to hire a professional!
How to you imagine spending the day before the most exciting day of your life? Catching up with friends and family, celebrating, relaxing. And on the morning W-day having your hair, makeup, and a glass of something cold and fizzy?
Having DIY'ed most of my wedding I'd choose the above! If you're about to DIY your own wedding flowers you absolutely must consider whom you're asking to do the flowers. I have seen so many stressed out Mum's who have been tasked to do the florals and have NO idea where to start! Not only are they worried in the run up to the big day, they end up working the evening before the wedding AND getting up early on the day of the wedding to make sure the flowers look great. Some are so stressed out they miss their hair appointments, nail appointments and are in a rush to get ready on your special morning.
When you use a professional florist you are paying for them to condition the flowers so they look their best for the big day, their creativity and arranging skills, use of their containers and a team to set up the flowers on the day of the wedding, putting everything in place for you so your bridal team can completely relax.
Every bride wants to carry a gorgeous bouquet, or have something beautiful on the reception tables. Floristry is a skill, that people spend thousands learning and years perfecting. You are paying for wisdom, knowledge, sourcing, conditioning, designing, making, delivering and most importantly someone who has put aside time to make sure the flowers are PERFECT for your big day.
Just like any other skill there is a cost involved in that, but hand on heart it is worth every single penny. If you've decided its time to talk to a professional, send me an email, I always ALWAYS want to talk about weddings emma@greenparlour.com