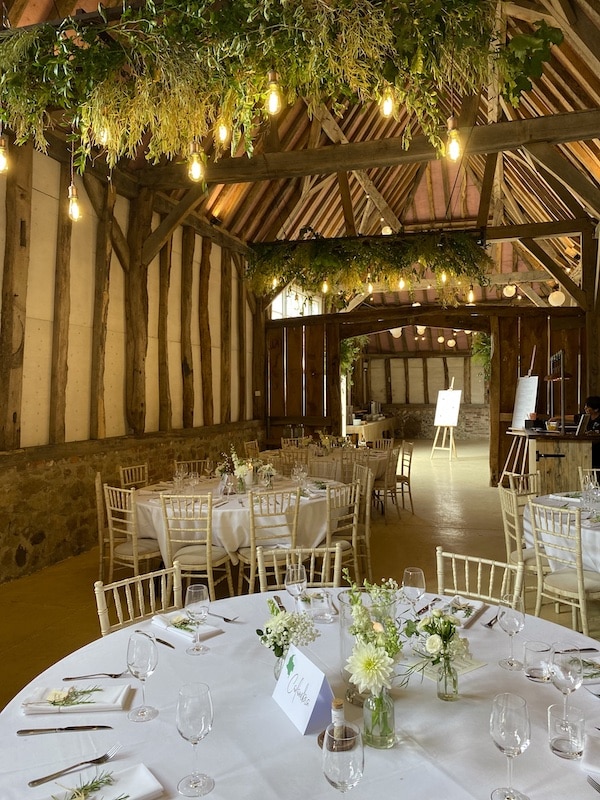 If you are getting married at Templars Barn, it can be hard to visualise just how gorgeous the space can be when you first view the venue. The thing I love most about Templars Barn is it really is a venue that you can make your own. Becca and Jonny did just that with their late summer wedding. Filling the space with statement lighting, personal touches and of course a bit of flower magic. With a classic palette of creams whites and greens, we brought a little slice of the outside in. Its all about using lots of seasonal foliage and flowers to transform the space.
The bridal bouquet
I love taking inspiration from the surroundings of a venue, and Becca's bouquet did just that. Tying in with the rustic feel of Templars Barn, I used a selection of dahlias, delphiniums, stocks, snapdrahons, euctoma, sweet peas, campanula and scabiosa. Becca wanted to avoid using some of the more traditional flowers associated with weddings. It's building the texture with looser more delicate flowers allowed us to enhance that rustic look. .
Rustic bouquets for me are all about creating texture, those twiddly bits and using a wide selection of flowers.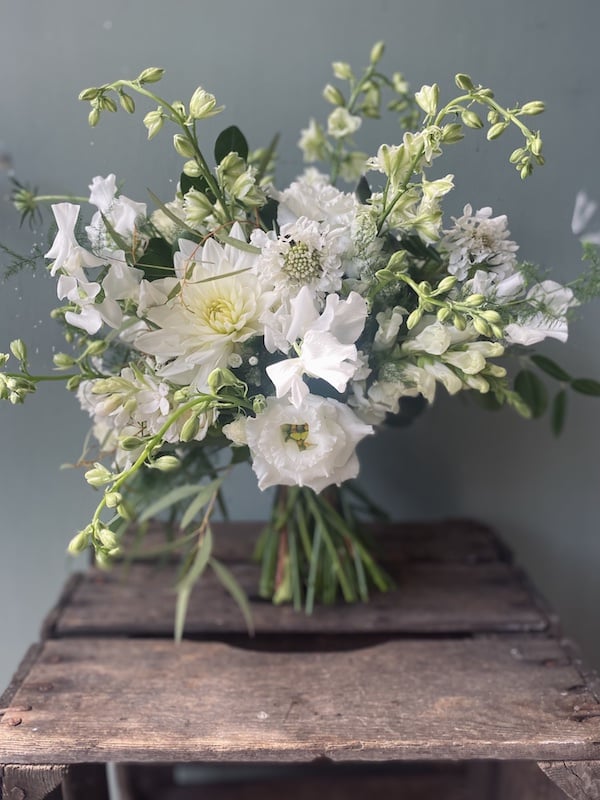 The bridal and bridesmaids bouquets complimented the rustic barn setting, with a loose, just gathered feel.
Combining lots of different shapes gives this bouquet all the texture. Different tones of whites and greens ensure each flower stem stands out. .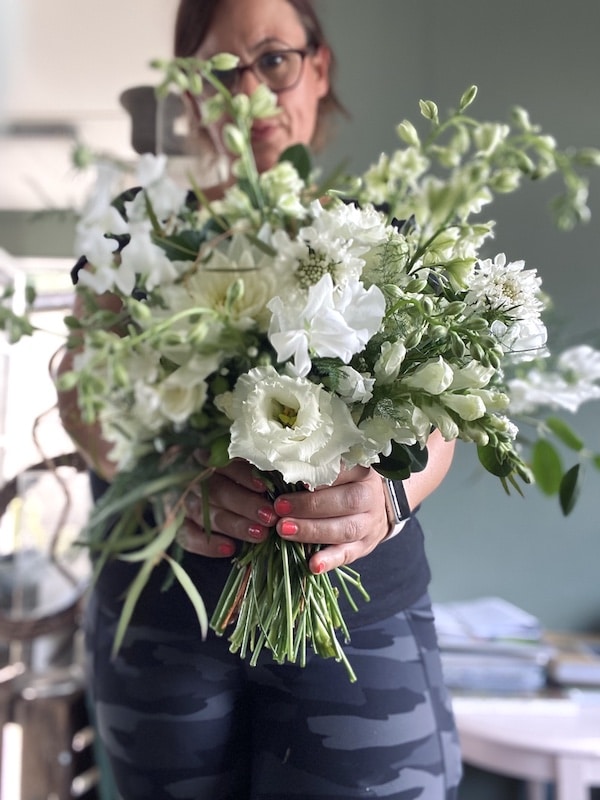 ---
Wedding Flowers in Templars Barn
Templars Barn is such a perfect blank canvas for any colour palette. You could go bright and bold, or more classic and subtle. Becca and Jonny wanted to hone in on the green countryside and chose a neutral white and green colour scheme. When we first started talking about their wedding flowers the idea of having statement pieces came up. We decided early on that a large majority of the budget would go on these bespoke hanging greenery lights. I love having statement pieces within a barn - something hanging down within the space creates a more intimate dining experience. Sitting underneath something so statement certainly grabs your guests attention and encourages them to visually explore the architecture of the barn.
Of course you don't have to have large hanging arrangements, but having one wow moment with your wedding flowers is always work considering.
When you have a large statement piece within a space, you often can go a little smaller on the table decor if you want a more delicate look. But equally you could create some fantastic large bowls with folaige brimming over the edge to compliment the hanging displays. A lot of this comes down to budget, and as florists, we're always here to advise how to get the more visual presence for your money.
Becca and Jonny opted for a more refined, delicate feel, with small bottles of flowers placed around hurricane lanterns in the centre of the tables. I loved their personalised table names - each was named after an Australian beech and came with a miniature bottle of sand collected by them. Those personal touches are what make every single wedding we do special.
Hanging statement pieces work really well within a large barn space - they help to lower the ceiling height and keep everything a little more intimate. Statement lighting really enhanced the character of the vaulted barn, drawing guests eyes upwards.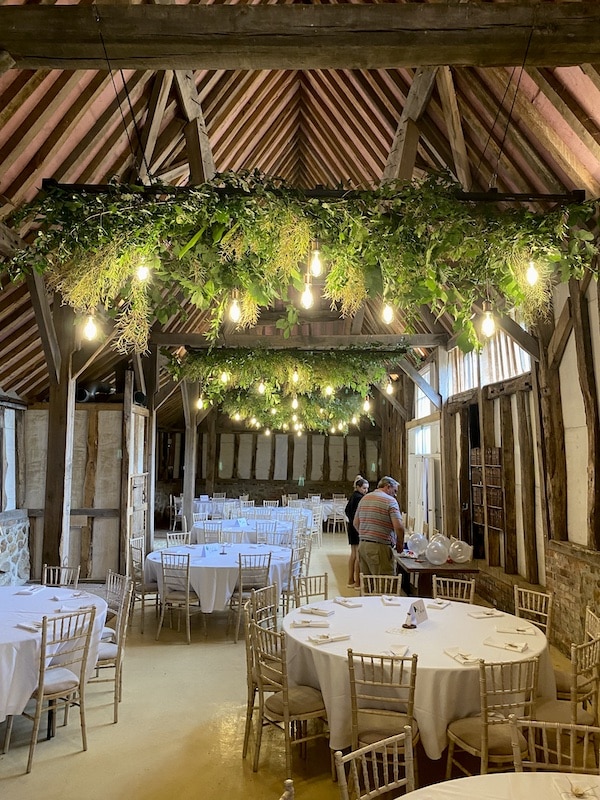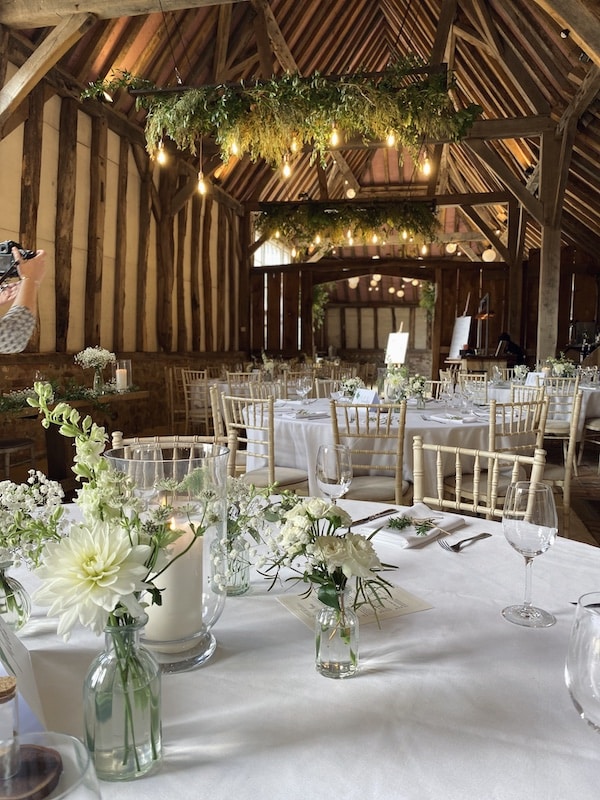 Often if you have statement hanging pieces you don't need quite so much on your tables - especially if your budget is tight. Clusters of bottles and hurricane vases decorated the tables.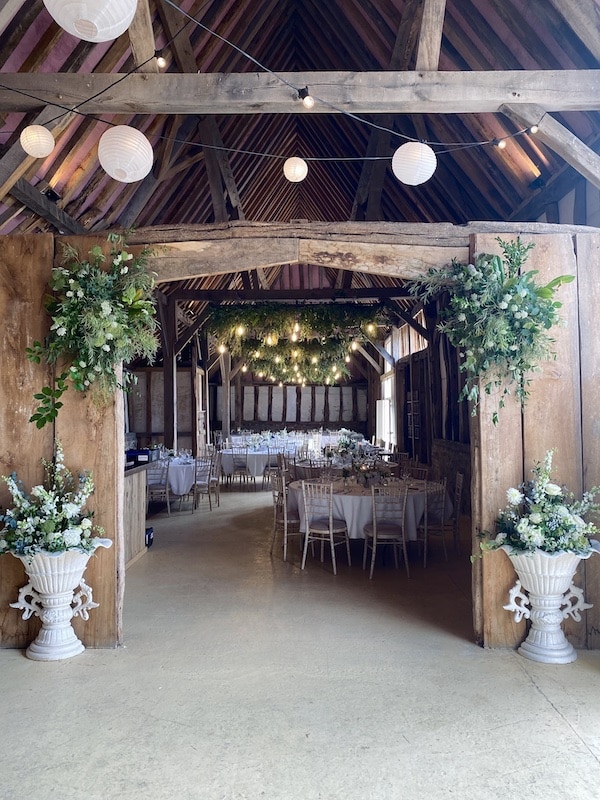 There are lots of places to add flowers at Templars Barn, but sometimes the simple touches work best. Two arrangements are used to framing the archway into the dining area. Those lovely urns can house 2 repurposed arrangements from the church. I'm a big believer in repurposing flowers. I want to make sure you're flower money is well spent and that you get to enjoy them for as long as possible.
---
If you're getting married at Templars Barn and want some advise on wedding flowers I'd love to chat. You can find out more about our wedding flower service by clicking the link below.
---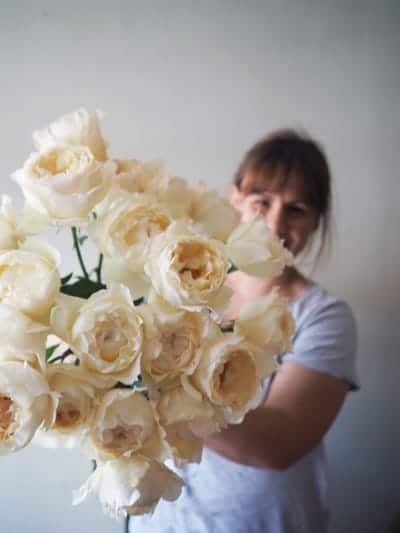 ---