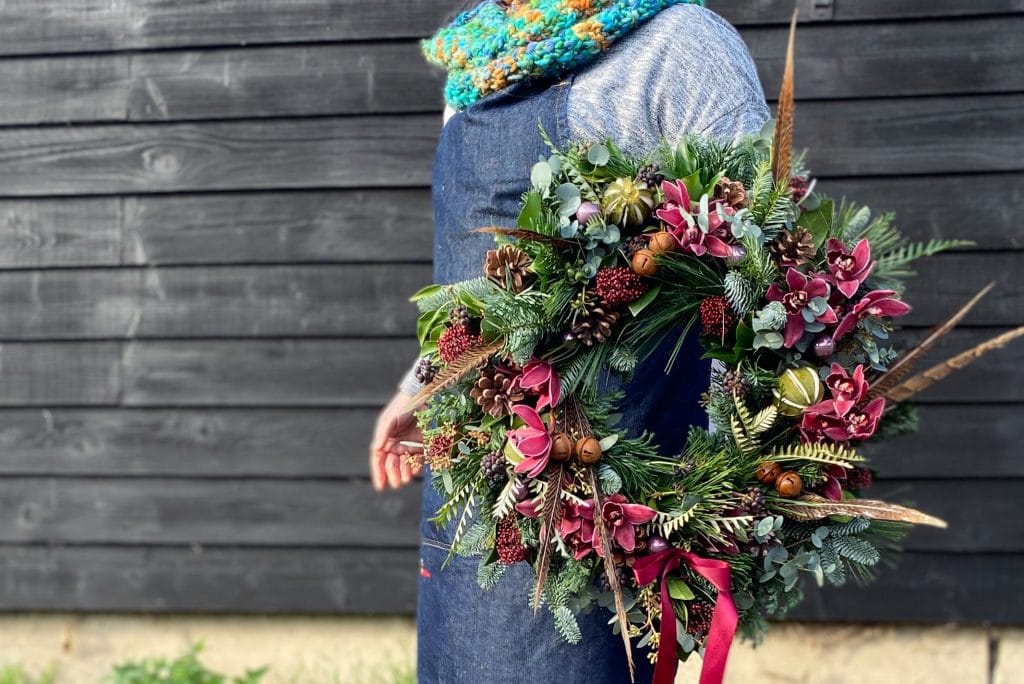 Christmas Wreath Classes
Winter has to be one of my favourite season. A chance to celebrate, embrace traditions and decorate your home for the winter season. I'm a big fan of twinkling lights, the scent of time and of course the annual tradition of hanging a Christmas Door Wreath on the front of my house. At Green Parlour, I believe that the true magic of the season lies in the act of creation. That's why I'm thrilled to invite you to our Christmas Wreath Making Course.
The Magic of Christmas Wreath
Christmas wreaths have held a long tradition in our homes. Originating from the 16th century, trees were brought inside the homes and trimmed to conform to a more triangular shapes. The offcuts were often woven into circular shapes and hung on peoples door. From those rudimental wreaths through to the more ornate arrangements we see today, Christmas Door wreaths play an important role as a symbol of celebrations and welcoming of the festive season.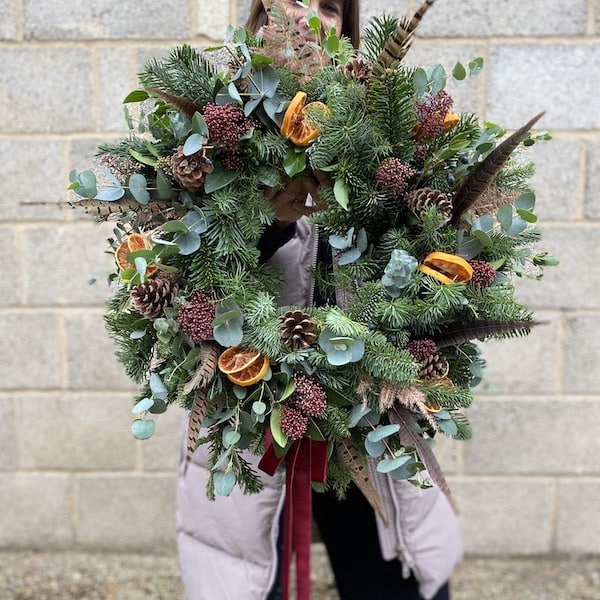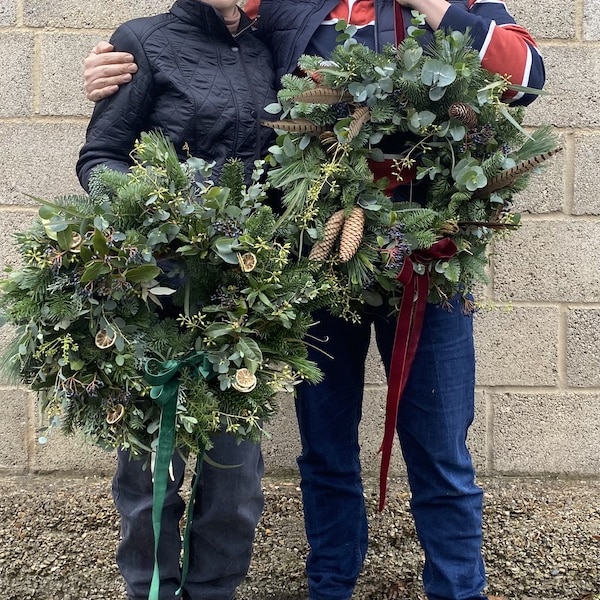 ---
Why Join Our Christmas Wreath Making Courses
Our Christmas wreath making courses offer you a unique opportunity to spent 2 hours crafting your own bespoke door wreath. For me, part of Christmas is taking the time out of your every day life and to spend some time crafting elements for your home. Making your own wreath gives you the chance to make something completely unique to you, capturing your creative spirit. When you join my courses, you can expect:
- Small groups to ensure you are taught your new skill thoroughly
- Experience the satisfaction of creating your own personal decoration – no two wreaths are ever the same.
- We specialise in big, voluptuous wreath and encourage you to use a wide range of greenery and decorations - Everything is provided for you, so you can arrive and relax into the course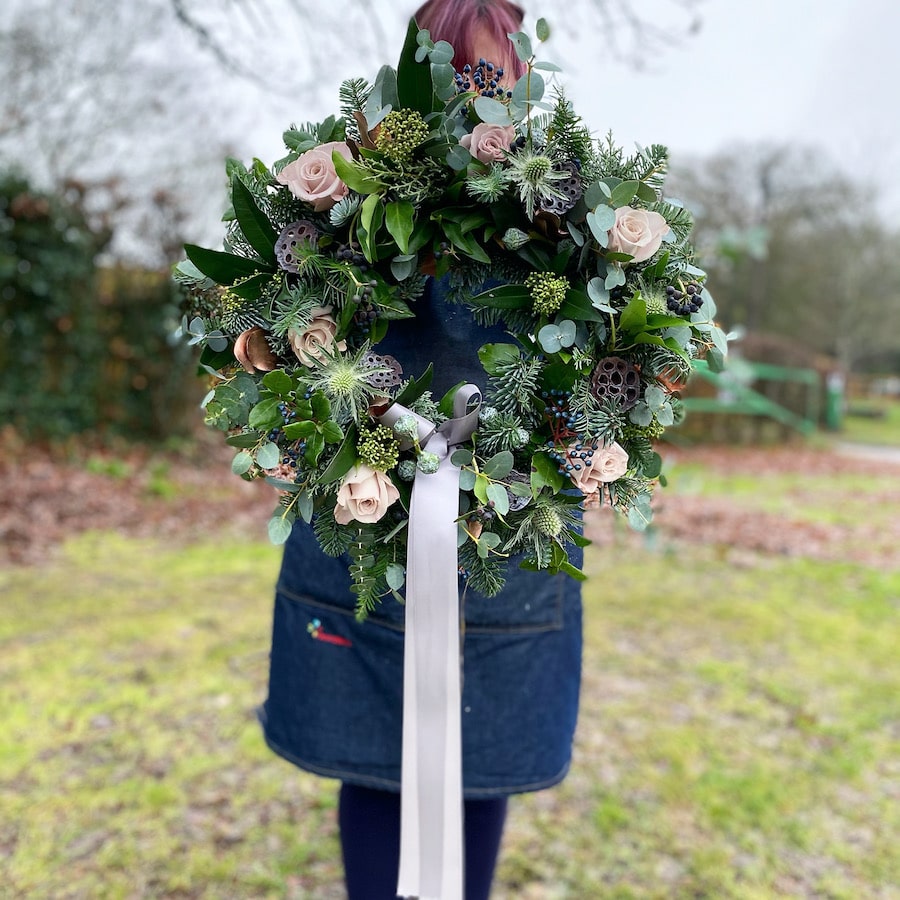 ---
What to Expect in Our Courses
Our courses are carefully designed to provide you with all the knowledge and materials you need to craft a stunning Christmas wreath. From selecting the perfect foliage to arranging festive ornaments and tying elegant bows, I will guide you every step of the way.
---
Meet The Instructor
Hi, I'm Emma and I host all of our wreath making classes. I'm a bit of a wreath artist, with years of experience in making and teaching wreath making classes. I love ensuring that you all leave with a Christmas wreath you will be proud to hang on your front door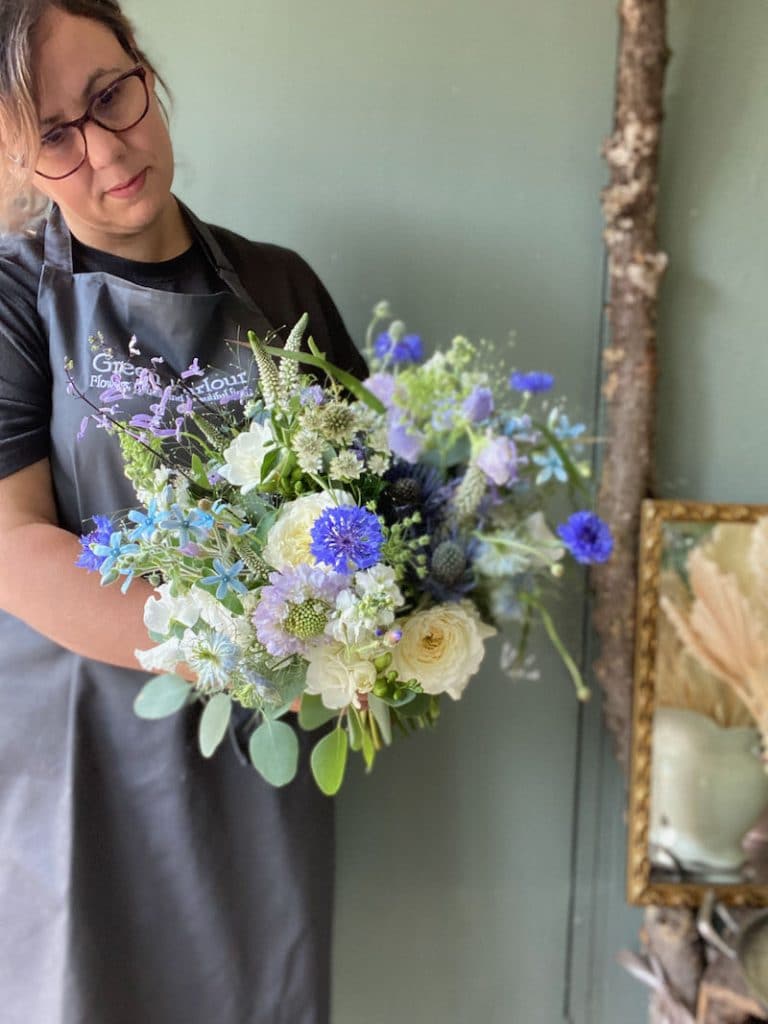 ---
Course Dates and Details
Our Christmas wreath making courses will be held in December and you can find the latest course dates here. We run small group courses of 6 participants from our florist studio in Bradfield -  a short distance away from our former Pangbourne Florist shop. Designed for both beginners and experienced participants, our courses ensure that everyone can take part. The cost is an affordable investment of £85.00 per person, and we provide all the tools and light refreshments you'll need throughout the course
Feeling inspired to join the Christmas Wreath Courses this year? You can see our latest courses here. If you have any questions or need assistance, feel free to contact Emma at emma@greenparlour.com.
---