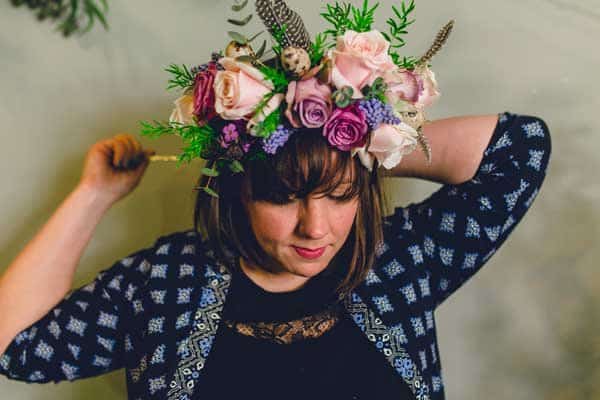 A huge hello to all our new readers and followers! To celebrate you joining our flowery crew I thought a little introduction about myself might be in order.
No one wants to read a huge blow-by-blow account of how much I adore flowers (heck you probably already guessed that they are the greatest thing on the planet!) Instead this is 10 fun facts about me. A chance for your to get behind the florist, so to speak!
Now I must hold my hands up here and completely admit that I'm also indebted to Karen over at Smashing The Glass for this. I loved her 10 facts and have totally borrowed her format. If you're planning a Jewish Wedding or celebration you totally have to visit her blog Smashing The Glass – its packed full of wedding gorgeousness and inspiration overload.
1. I've worked with flowers since I was 16 and we always talked about owning a shop over the dinner table with my family. We opened Green Parlour in 2008, when I was 25.
2. A chicken once escaped in the shop and hid behind the toilet. It took over an hour to free the bird and a total re-build of the facilities. I bonded with one of the most amazing women, Debs, during this ordeal and I'm so grateful to have her as a lifelong friend (thanks chicken!)
3. I may be a tiny bit obsessed with Kate Bush. And I cried when she sang Hounds of Love live in 2014.
4. I happened to be involved in the flowers for the royal wedding in 2011. It was the most amazing experience and something that not everybody knows about me. I took the call from Catherine in the lavatory so no one would hear!
5. I can play the piano, recorder, violin and oboe and I'm currently teaching myself the ukulele.
6. If I hadn't become a florist my other vocations I had pinpointed were an astronaut and a pool shark/hustler
7. I do have a favourite flower … sweet pea's! I cannot help but stick my nose in them and breathing in heavily.
8. I LOVE the smell of play-doh.
9. I drink far too much tea – around 8 cups a day. I know I should cut back, but floristry is a cold job and the tea is required for warmth.
10. I talk about flowers a lot in my sleep. My latest musing went a little like this "I've almost run out of mistletoe" …. uttered in February.
We'd love to hear your 10 fun facts - pop over to our Facebook page to introduce yourself!