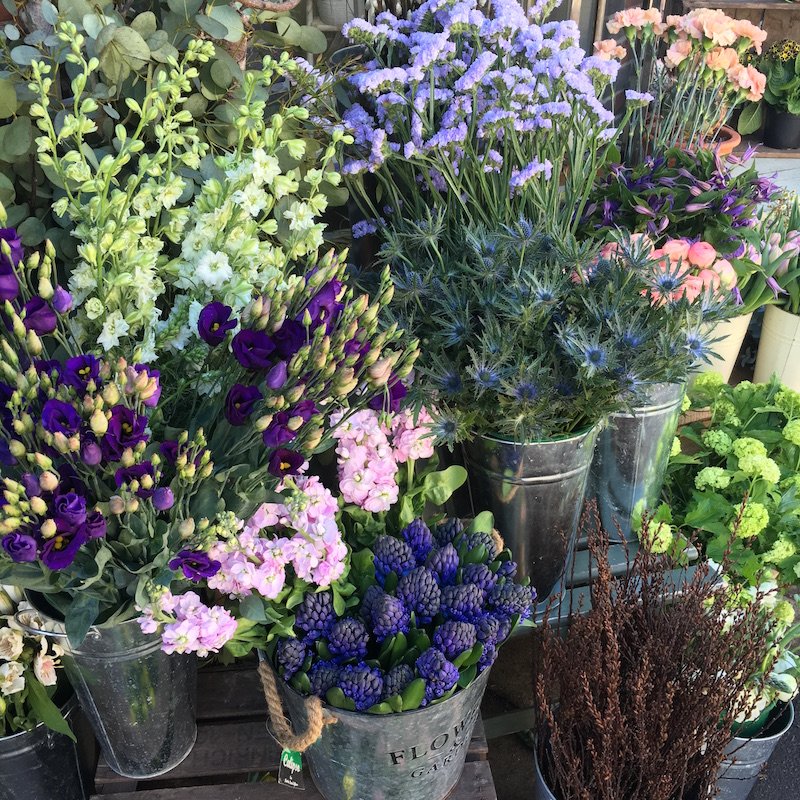 Whether you go to market or buy your flowers online, how on earth do you decide what flowers you want to sell. There are literally hundreds and hundreds of varieties available and tons of different colours.
Some florists go for the scatter gun approach - a little bit of this and a little bit of that until they have every colour under the rainbow in their arms or virtual trolley. Sure this is the way you can work, and indeed this is the way loads of florists shops around the country have run for decades, but we like to think of ourselves as a fine artists picking our paints very carefully so we can blend and get depth.
I call it a 'currated' colour palette which sums up whats happening not only in the floral world but also in fashion and lifestyle. We're constantly looking around, gathering inspiration and then transporting it to our flower stand in tints and tones that blend together beautifully.
So for spring the catwalks are all about spring colour - light bright and airy. The media bats around terms like eau du nil, blush, nudes, ivory and vibrant greens. Basically spring is like a gorgeous awakening of colour punctured by some unexpected bright 'slap round the face' sort of colours.
This is exactly how we build our flower stand - soft creamy whites are punctured with a zesty green or strong yellow, soft peaches and blush tones have a hint of deeper richer blue or perhaps a subtle chocolate brown. Spring really is the season of abundance. There are so many beautiful fleurs available from delicate pips of narcissi through to big blousy blooms.
Probably the best thing of all is having a flower stand thats constantly evolving. We get fresh flowers delivered almost every day so the colour palette changes every single day.
The key to anything creative is to always have those peepers open and gathering inspiration, from a leaflet that lands on your door through to the flowers growing through the paving slabs, the world really is the most inspiring place if we opened our eyes more.