Felicity and Edwards country garden wedding
If you adore country garden wedding flowers, then this has to be the post for you. Felicity and Edward's day was filled with buckets of our favourite seasonal blooms, with a just picked vibe. The perfect ingredients if you are looking to create a natural 'undone' wedding.
Felicity and Edward's amazing wedding took place waaaay back in September. Its taken me forever to blog about this beauty, but the best things come to those who wait and believe me, I cannot wait to tell you all about it!
When we first started talking to Felicity, I knew instantly the feel we should create for her big day. There were words bandied about like garden, natural, slight Mediterranean feel. Mostly Felicity wanted us to have a relaxed, informal feel taking inspiration from the surroundings. With a gorgeous colour palette of soft cream, ivory and hints of a light dusky blue, we set to work creating some rather beautiful 'just picked' flowers.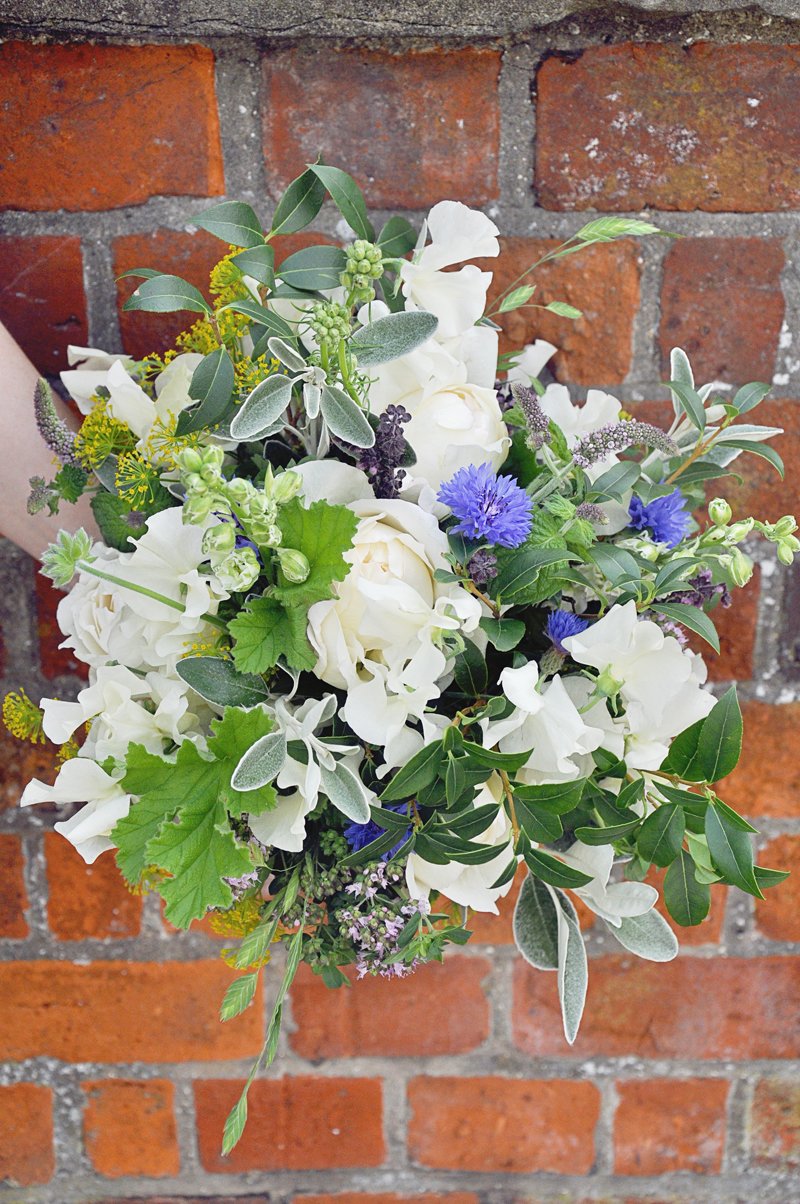 The Country Garden Wedding Bouquet
Felicity's bouquet smelt more than amazing - packed with herbs, flowering mint, sage, the most divine English grown roses, dill, oregano, cornflowers and heaps of scented foliage, I can honestly say whilst I was making it I had to stop every few moments to breathe the aroma in. Touches of grasses and hedgerow foliage scattered through the design to tie in with all the countryside surrounding the marquee.

Creating Country Garden Style Table Centres
With long runs of tables been very en-vogue in the wedding world right now (and I have to admit, this is a trend I NEVER want to go away!) Felicity dressed the centre of the tables with this taupe/hessian runner with napkins to match. I have a total crush on coloured napkins. They really bring a scheme together and make the table look completely dressed, rather than just an after thought.
Glass cylinder vases were filed with hand-tied arrangements of flowers to match Felicity's wedding bouquet. Delphiniums added that gorgeous powder blue tone, scent came from mint, herbs, dill, and all the wonderful seasonal foliage we used. darts of veronica loosened the flowers and with clusters of wonderful dahlias the vases came to life. We went for 2 different vase designs for the tables, which I think really works on the long tables, encouraging your eye to travel down the space, almost zig zagging up and down. The small vases contained little posies of Avalanche roses and herbs. The marquee smelt of the most wonderful culinary herbs and beautiful fresh flowers. I adore it when every one of your senses is encouraged to work in unison - smells, sights, sounds. It was utter countryside indulgence!
Kind words
"I've been meaning to write to thank you for doing such a great job with the flowers at our wedding back in September. You totally nailed the brief - perfectly. You pulled together a wonderful collection of flowers - in the church, the marquee and in the two bouquets too. The church as you know was small so didn't need big arrangements but you got the right balance - enough height and volume but not too much flashiness! The gate posts and the church marquee flowers were perfect too.
As for the marquee I had so many people comment on how lovely the table flowers were. Again you got it spot on. Due to the narrow tables the flowers couldn't be too high but you interspersed the table with wonderful creations. Just divine. And the marquee poles, garden gate posts and the little shepherd hooks - all gorgeous. Ed wasn't involved in the flowers (i don't know how many husbands are?!) but I really felt you got 'us' in terms of the look, feel and style we were going for. Thank you!
My bouquet and that of my little bridesmaid were gorgeous and so fragrant with the herbs and flowers in. Wonderful. The bouquet survived the night despite one failed attempt at a throw. And the following day I visits my elder sisters grave and left it for her to enjoy.
Thank you thank you thank you! You were brilliant! "