Wow, already I feel better just writing the title of this post. Perhaps saying I dislike the whole of Pinterest is a little steep, there are some really great things about it, but equally there are some things I really hate. I figure the great things plus the hating overall balance out to a dislike.
Been in the wedding business, I should probably be raving about this crazy online pin board system. Its like a whole load of inspiration without having to buy a load of wedding magazines which publish the same stuff month after month. You've always got this fresh stream of updates and on demand inspiration at your finger tips. This is the great part about Pinterest - you search for something and sure enough there will be an image capturing what your brain is thinking about. I think its a great starting point tool of wedding planning - but when I say starting point tool that's exactly what I mean!
Combining Pinterest and floristry has its ups and downs. After a rather negative start in the title, let me redeem myself slightly by sharing some of the ups! The main thing I think Pinterest is great for with floristry is allowing us flowery folk to share a whole load of images of specific flowers we are trying in vain to describe in writing (incidentally have you ever tried to explain in writing the true beauty of a flower and the blend of colours in a bridal bouquet ... you do need pictures and a face to face consultation!)
Flowers are so visual, looking at pictures and getting to know our gorgeous couples brief is exactly what I love to do. Looking at loads of images in our consultations, finding out exactly what they want from their wedding and how we can make it different! Pre Pinterest we'd sit down, cut up loads of images, get colour charts, sit down and create a touchy feely mood board. I know your thinking ... yeah but we can do this with Pinterest now at the touch of a button. And your right, you can buuuut ... and this feels quite scary saying this, and I definitely don't want to offend any of our Pinterest obsessed brides buuuut ... there is a tendency with Pinterest that you get quite similar looking weddings. The "I want that exact bouquet whether its in season or not" approach, rather than the more hands on "what can this florist create for me that's completely bespoke" approach.
Before Pinterest, I can honestly say we never made a similar looking wedding. Each one was totally unique, from the first consultation it was a creative journey for me and the couple I was working with. Pinterest has taken a part of this process away. There is a very definite Pinterest wedding look, We often see the same pins on multiple boards, and I don't know, I just feel its making some wedding floristry less exciting both for the florist and the couple.
Everyone says they want something unique, that reflects there big day - we want to create this too! But having an image you've fallen in love with (that's often designed for a 5 minute photo shoot and not always arranged to a high standard) and all a couple want to do is exactly recreate said bouquet takes that uniqueness away.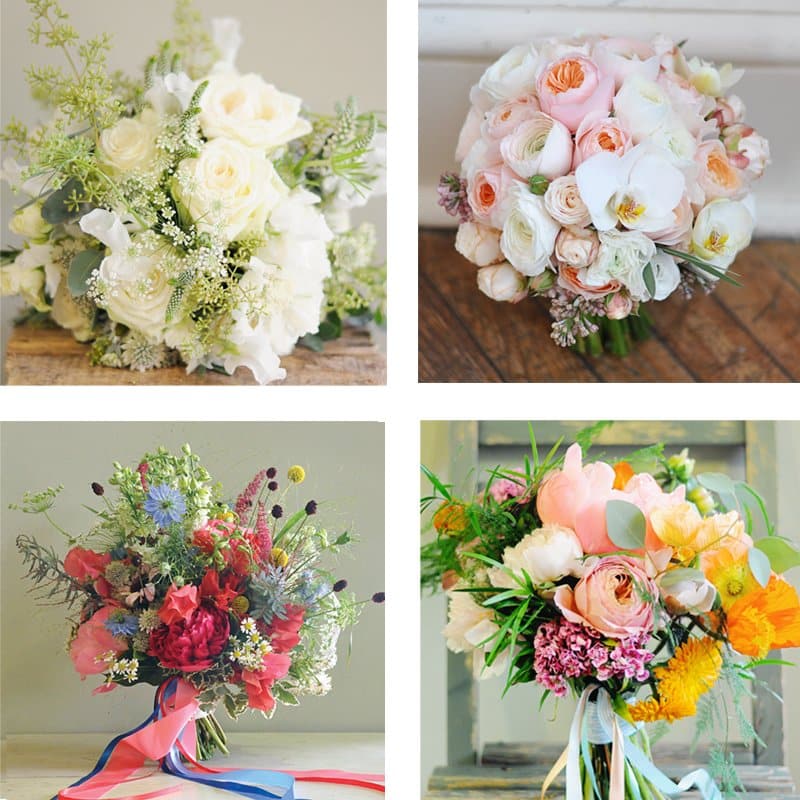 Some of my favourite bridal bouquets we've lovingly made are when we've had the creative freedom to combine the flowers that work together. I call it carte blanche arranging - the bride talks to us about all the different decor, we get a feel for the vibe, we talk about flowers and we often look at some images whilst I babble on about particular favourites which I think we should include because they will just look super stunning. The bride trusts us to arrange something gorgeous, and when we go to collect the flowers and see something utterly beautiful at market - we don't hesitate to buy the latest flower to steal our hearts because it will enhance the bouquet and we think "gosh that's so Anna ... shes going to love that" not "oh gosh that would look stunning, but its not in the image we've been asked to recreate"
We live, breathe, eat and sleep flowers - we know what works and what doesn't, and with a little guidance on colour schemes from our couples we can create the most stunning wedding flowers for you. Having that freedom to create is magical, the most amazing things happen when you let a creative do what they adore and I can whole-heartely say you will love the results. Having your heart set on that bouquet in the image, when no 2 bouquets ever look the same, makes us worry, we're constantly assessing the bouquet, looking back at the image, back to the bouquet.
"is it like the image? Oh goodness, its not perfectly like the image. Argh! that would look amazing, but I'm not sure because its not in the original picture"
Its hard because all we want to do is make the bride beam the biggest of smiles on her wedding day, but sometimes those added extras when your making the bouquet just lift it, they make you smile, make you think, enhance a tone or texture. Sometimes a touch of the unexpected or unplanned can be marvellous and subtle. They don't have to smack you round the chops but they should make whatever is there SHINE!
Pinterest is a great guidance tool, but please use it as that. Let us use every inch of our floral obsession creating bespoke wedding flowers - with a touch of Pinterest guidance.