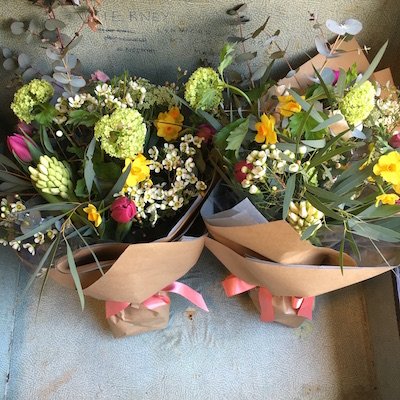 Sometimes after a really busy, stressful time you need a few weeks to fully relax, take stock of everything and evaluate where you want to go in life. With Valentines and Mothering Sunday well out of the way, and our new approach to weddings giving us more time to be creative and bespoke with our work, it also means we get to share all that gorgeousness with you. I've been thinking about what we want our blog to achieve, not just the whole get more comments, have more likes mentality, but more the 'what does this blog represent' mentality. What do I want this to be about. When I read blogs, the bits I like best are the personal post entries, or a real look behind the scenes. I feel I can so connect with that person and more importantly I want to find out about their life - I want to be part of their club! I want to make our blog more of a personal journal, where we can freely share our flowery world with you, and hopefully you'll join us and peep at what we're getting up to. Its not going to be about presenting the perfect image to the world, but its going to be about capturing a feeling and trying to convey the smells, the colour and ambiance of the shop.
So welcome to OUR CLUB, the place where you can find out what real florists get up to behind all the perfect Instagram shots. I'll be posting weekly on a variety of different topics about flower life and up next week will be a blog about how we choose what flowers to sell on our stand. Its going to be a good one!
Here's a picture of me making you a virtual 'welcome to our club' flower crown. Wear it with pride!
TTFN x