If you're as head over heels with a blush and grey colour palette for your wedding flowers then you absolutely must take a look at Becca and Phil's wedding at Ufton Court. It had us all oh-ing and ah-ing with beautiful summer colours.
Becca and Phil married at the ever gorgeous Ufton Court way back in July. I've been sloppy not posting this sooner, it popped up whilst I was flicking through my instagram feed. I was reminded how utterly breathtaking their flowers were. Grey and blush has to be an all time winner of a colour palette - its soft, sumptuous and full of romance.
Becca carried the most sublime bouquet, it had everything going for it - scent, size and full on texture. In fact we just grabbed nearly every single flower we loved and arranged it into this bouquet for her. The winning element for me had to be the Quicksand roses. I cannot get over how beautiful they looked. Combine that with the scented mint, ammi majus and sweet peas and we knew this wedding was going to be a heart-breaker.
The ladies wore a more elaborate boutonniere rather than a full on corsage. I hold my hands up, I'm not a huge corsage fan, so the simplicity and elegance of these really worked for me. The also smelt divine, with little pips of mint and scented geranium to get all the senses going. With the beautiful Quicksand roses in full show, the grey came through from the ribbon binding and the small hints of brunia balls.
Becca had one 'maid and she waltzed down the aisle with a miniature version of the bridal bouquet. Look at how gorgeous that gunmetal ribbon looks against those gorgeous Kiera David Austin roses - colour match heaven!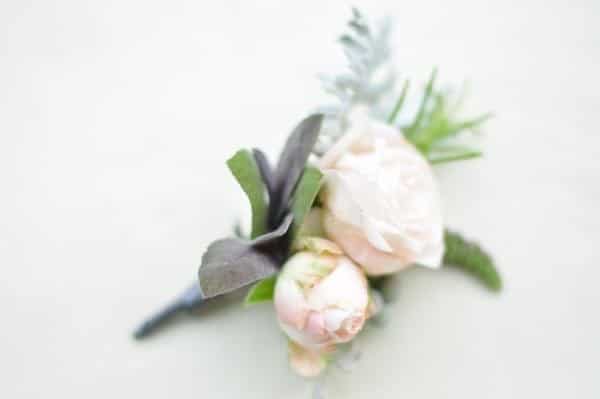 Every Groom in my opinion should wear something a little more VIP. I think it looks great in pictures, and can really bring the Grooms outfit to life. With a little nudge, we persuaded Phil into donning this gorgeous number - look at the colour of that Bombastic spray rose! The little sage leaf combined with the mint smelt amazing to.
The rest of the men donned a Majolika spray rose cluster again combined with some beautiful foliages such as mint, rosemary and sage. All bound in a pretty grey ribbon.
If your after some more blush inspration, you must take a look at our Pinterest wedding boards www.pinterest.com/green_parlour