Autumn wedding flowers at Dorney Court
Dorney Court has it all - old grandeur with the beautiful character house and the wonderful sympathetically restored barn. I've dressed it a few times with flowers, but I wanted to share with you Hannah's rich autumn wedding flowers. Dorney Court is perfect if you want a blank canvas for your big day, that you can really make you're own. I worked with Hannah to transform the space for her early autumn wedding. As ever, for me, its all about having a few statement flower displays to transform the space.
The flowers and inspiration
Autumn can be viewed as a difficult time for flowers, but honestly its my favourite season. It's full of rich texture, bolder colours and some more architectural shapes. The leaves are starting to turn and taking inspiration from that palette is key here. You want to embrace the stronger mustard tones. Intersperse a little blush throughout to soften and be careful with how you add in those richer purple tones. Greenery really is your friend here and jumping on the dried flower wagon will look fabulous as its echoing nature.
For Hannah's big day at Dorney Court, I chose a mixture of dahlias in all shapes and sizes. Golden Mustard roses, purple hydrangeas, achellia, sweet peas, lots of greenery and chocolate cosmos. There were many more besides, and that is very much how you should do autumn flowers - not lots of the same but lots of different flowers.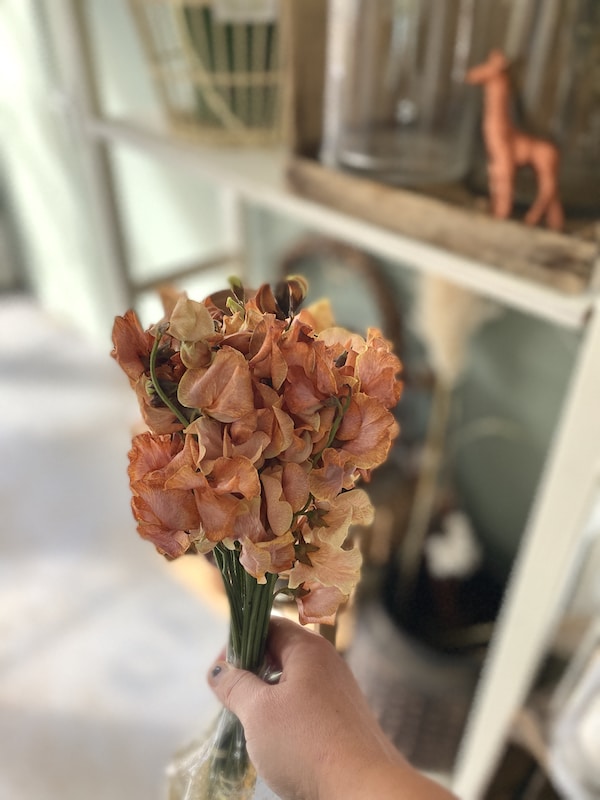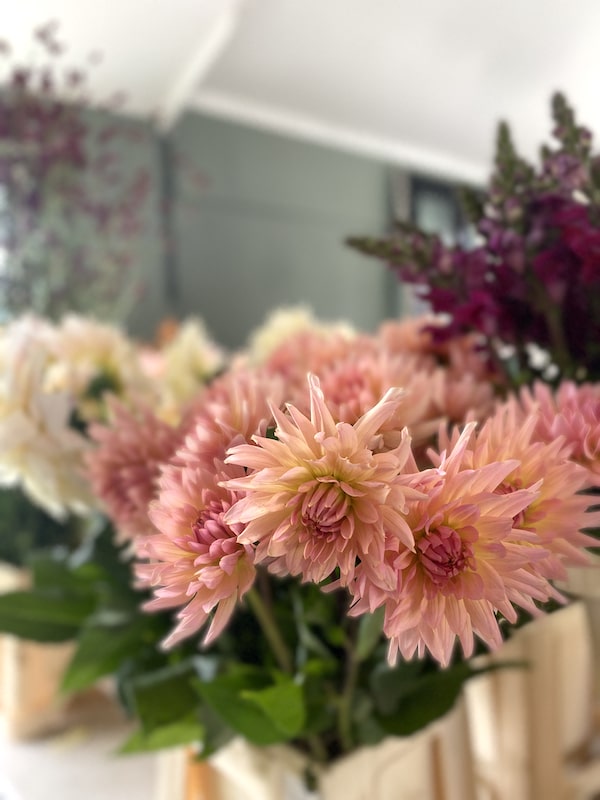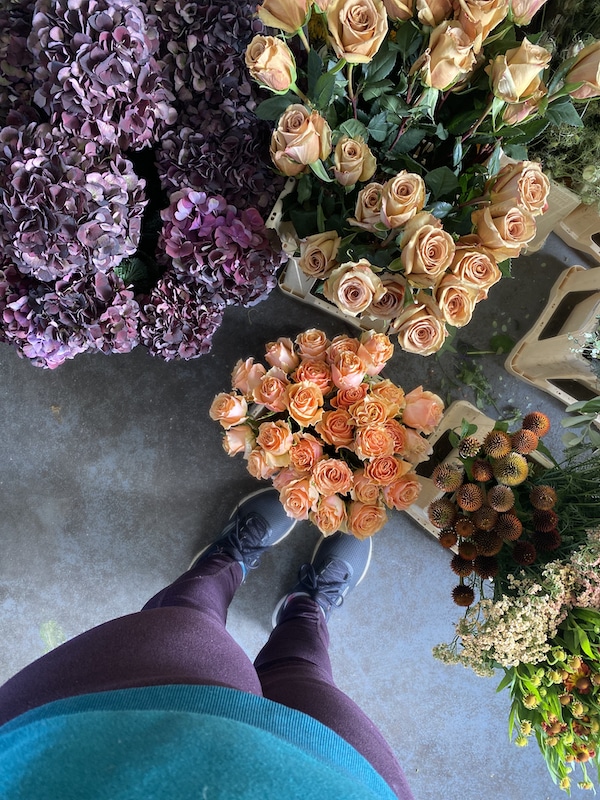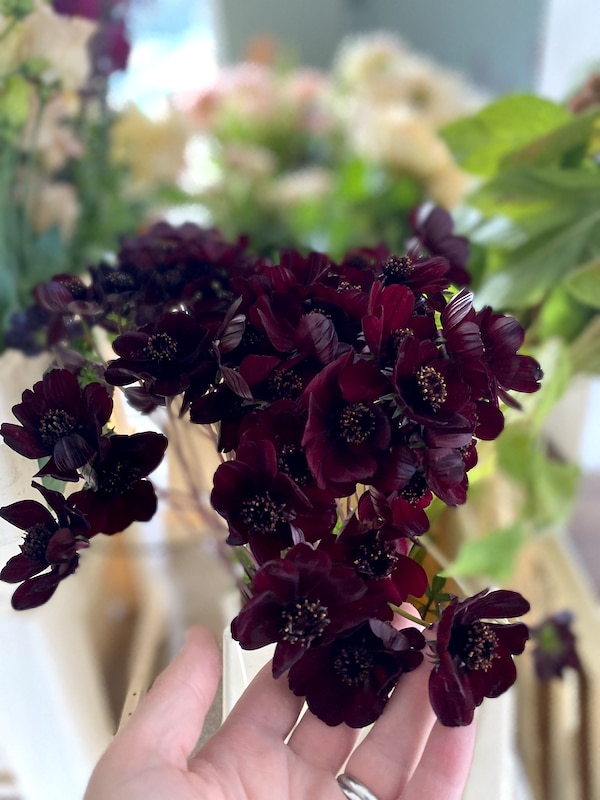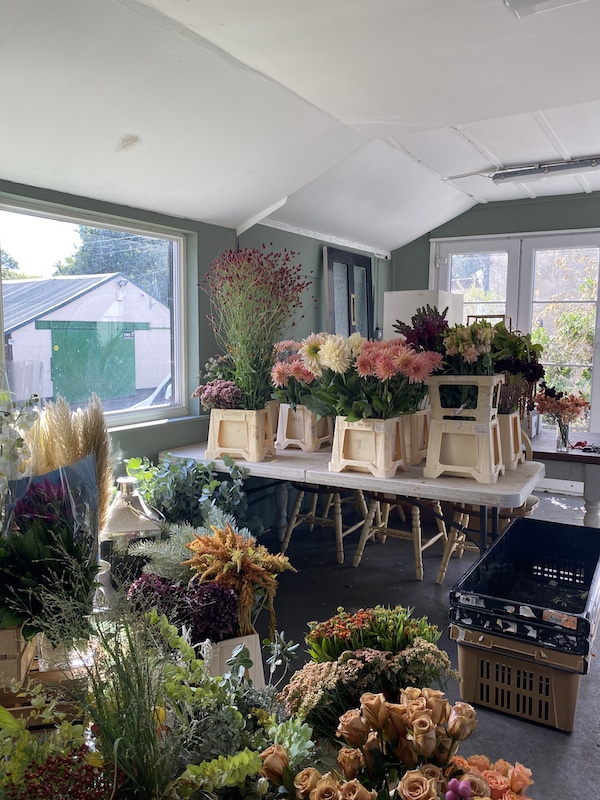 An overview of the flower stand before I started arranging - you can see dahlias, roses, pampas grass alongside Sanguisorba, amaranthus and grasses. Its all about creating texture, and with that you need lots of variety.
The bridal bouquet
This was one of my favourite bouquets of the year to make! As much as I love blush and whites, it was invigorating creating with these rich autumn tones. Every time I look at Hannah's bouquet I see something different - the pop of the crocosmia caught me this time. It has a bit of everything in it. I always have a plan when I start arranging the bouquets, but it can sometimes go a little off piste. Sometimes you need a little something here and a bit of something else there that wasn't in the plan. So the plan is always made with a little bit of flexibility depending on what takes me creatively on the day.
I implore you here - a florist should never be paint by numbers. There is no creativity in that, its just box ticking and oh so many florists fit into this category. So you want to find a florist who can bring you that little bit of creative magic, who puts a little bit of themselves in each and every bouquet they make.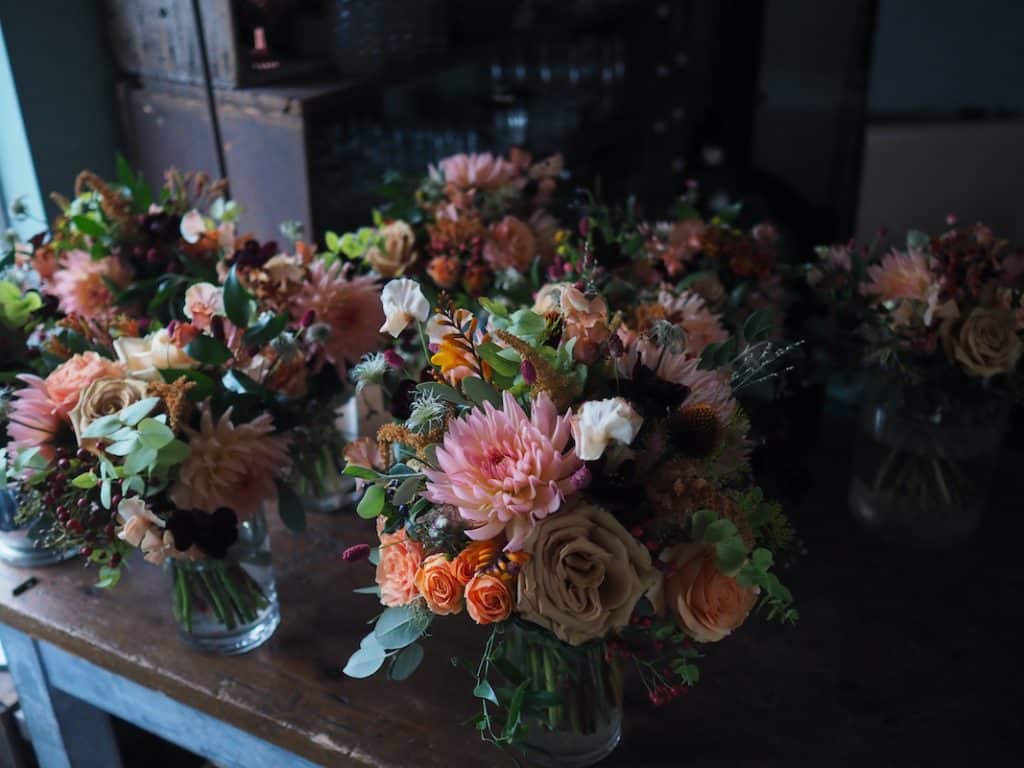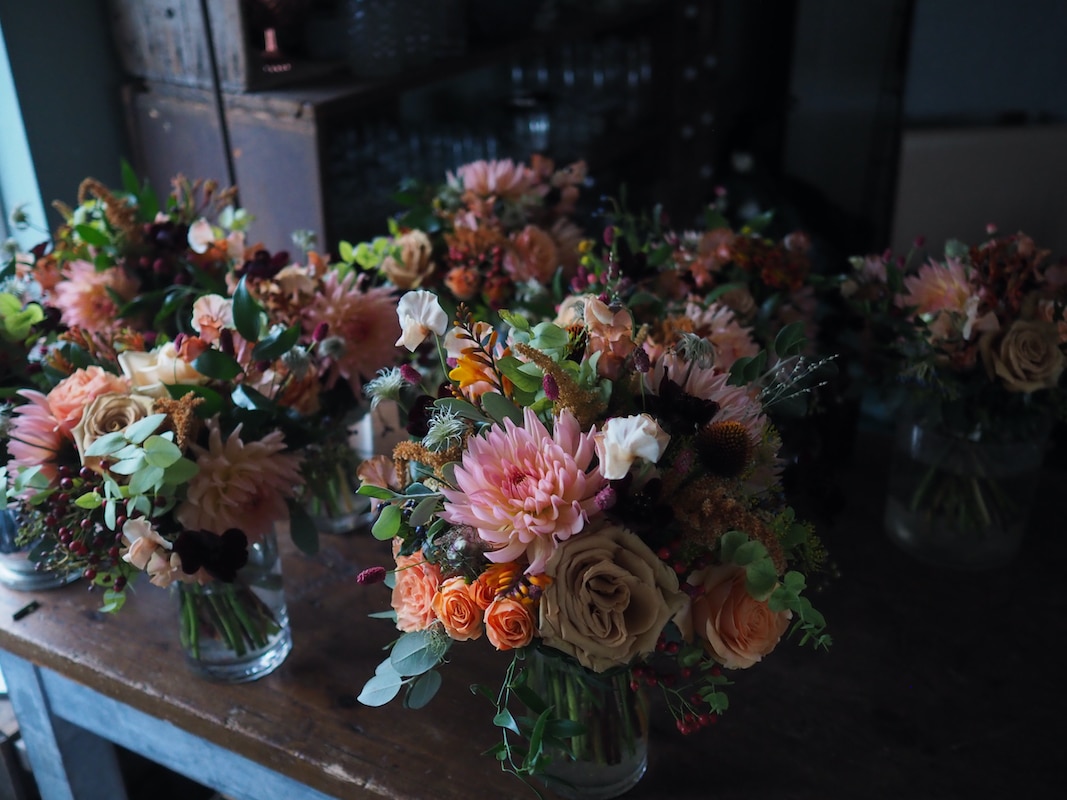 Every which was you look at these bouquets you find and see something a little bit different. That folks is what I call flower magic.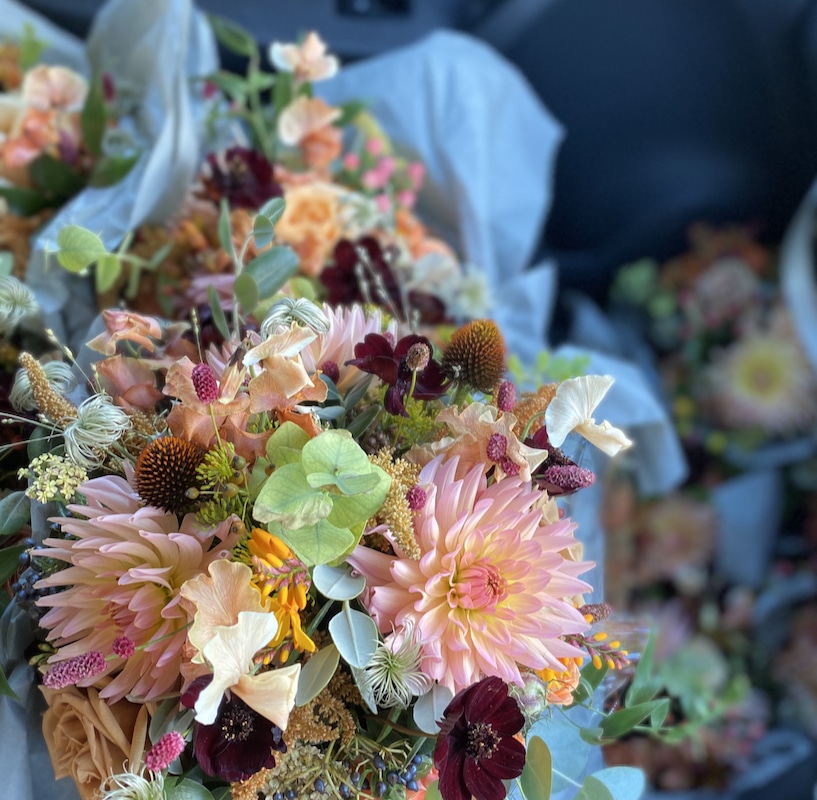 ---
Wedding Flowers in Dorney Court
Dorney Court is a blank canvas for any colour palette - such a rare find for a venue. This meant that Hannah had full control of the colours she wanted to base her wedding theme around. One thing we discussed early on in our meetings was about having some statement pieces. If you've read through some of my previosu wedding blog posts, you'll know I love a statement piece.
We originally considered hanging some floral chandeliers from the beams, but as the space is so huge, you'd need to have something really over the top for maximum impact. In the end we decided on adding some statement height using these metal stands. Not only did they house a gorgeous large floral piece on top, they also hand intricate hanging flowers placed within. Its all about those little details and connecting large arrangements with the table area below.
We combined these with low arrangements on alternative tables, so your eye really travels around the space. Again, its all about the little details ... coloured vases to enhance the colour of the flowers, candles to add height and definition. The lower arrangements didn't feel any less special because they were smaller.
Tall arrangements really help make the space feel more intimate and they create the wow factor as you walk into the venue. Remember not every table has to house tall arrangements.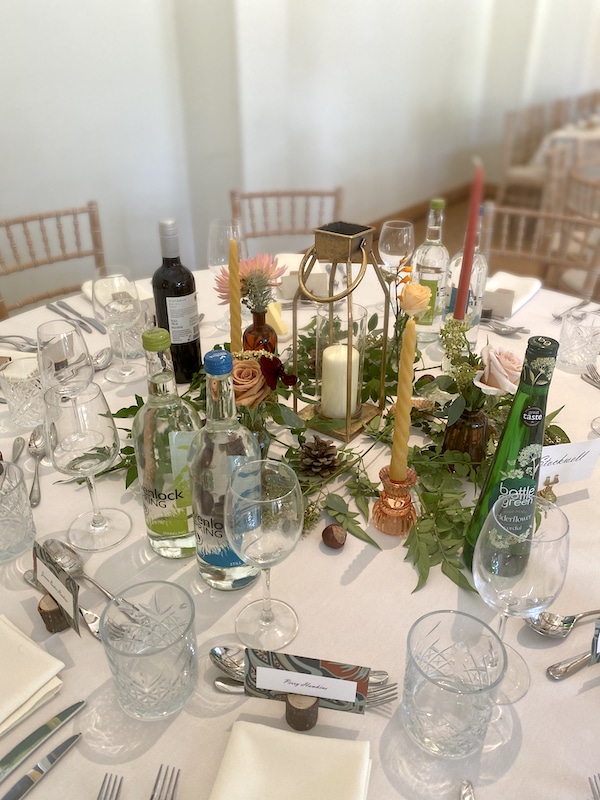 These smaller arrangements didn't feel any less special despite their reduced size - add extra colour with coloured glassware and candles.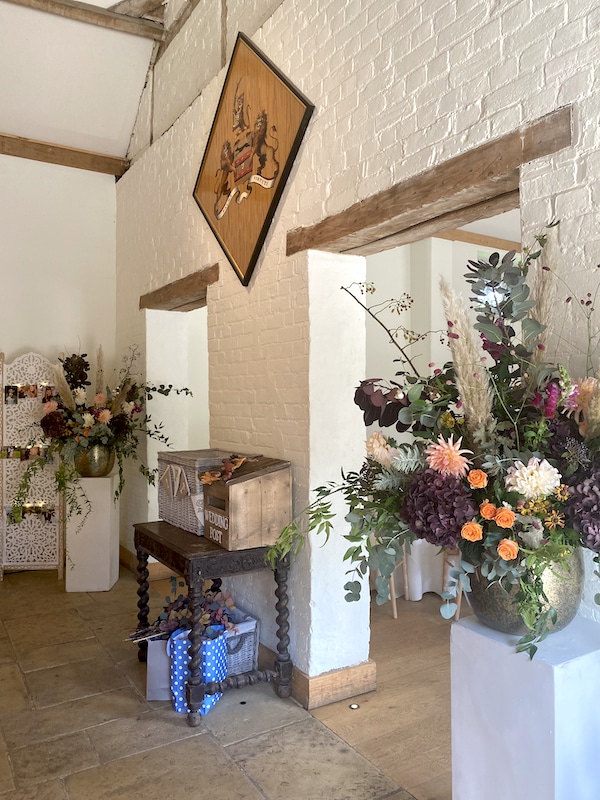 There are lots of places you could add flowers at Dorney Court, but sometimes the simple touches work best. Two arrangements are used to framing the archway into the dining area. These 2 large arrangements were actually repurposed arrangements from the church and looked wonderful in both spaces. I'm always here to make sure you get the most flowers for your buck, and any good florist will always be on hand to advise you on how to get the most out of your floral budget.
---
If you're getting married at Dorney Court and want some advise on wedding flowers I'd love to chat. You can find out more about our wedding flower service by clicking the link below.
---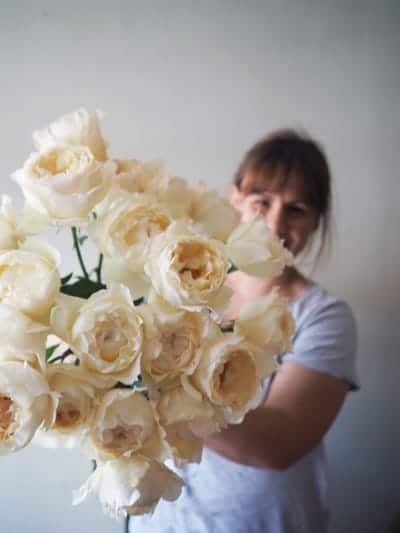 ---