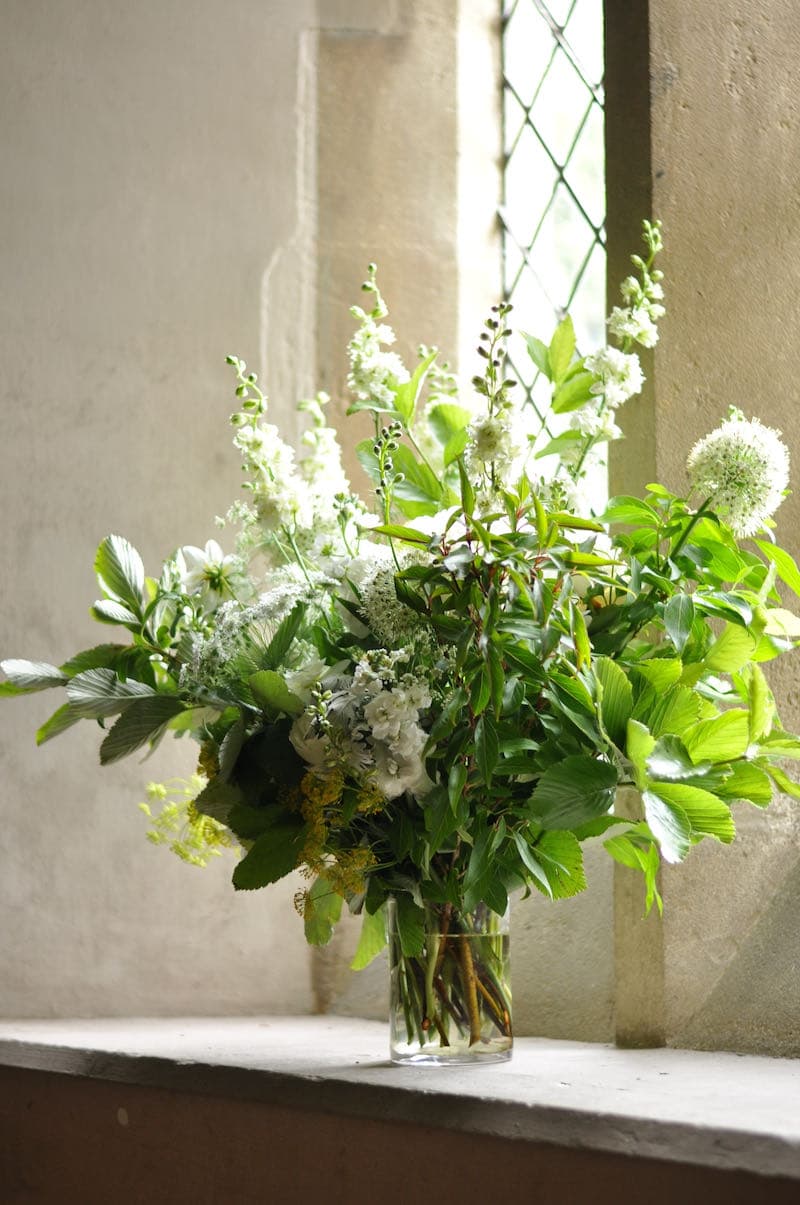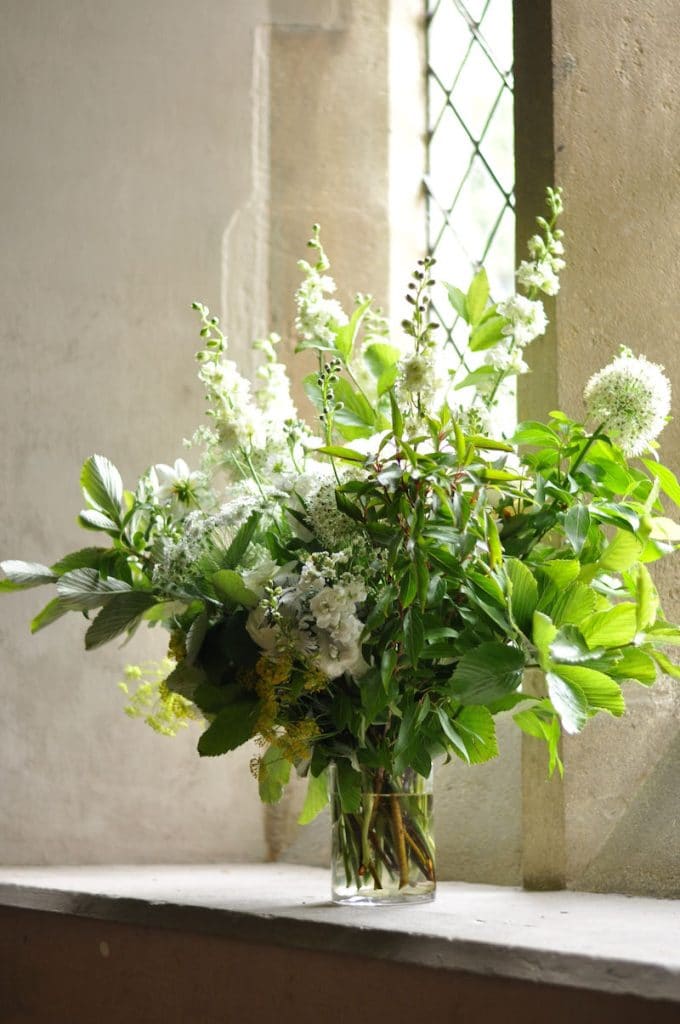 There is no denying it, I love a church wedding! With their beautiful exterior and religious relevance they are a key part to many couples wedding day and, from a florists perspective, they look totally wonderful dressed in flowers. Whether you are planning a traditional church wedding or having your ceremony elsewhere there are a few things to consider when choosing your wedding flower. One of the first things most couples say is that their ceremony space isn't used for that long. Whilst the time element is certainly correct, I am all about helping you to make the most of your wedding flowers. I am going to be talking about the most common wedding flowers, where are the key areas to dress in a church and how you can re-use these arrangements at your wedding reception.
Most common wedding flowers
There is a long tradition of using roses for weddings – with many historical meanings, these beautiful flowers also grow in abundance during the main wedding season in England. Whilst roses are still really popular with couples, there is a whole array of flowers that you could use for your wedding day. I would always recommend trying to follow the seasons – whether that's going foliage heavy in the Winter, through to bulbs in the Spring, blousy roses and hydrangeas in the summer months and dahlias in the autumn, there is always an abundance of flowers which you can use for your wedding.
Are you going for a more classical feel? If so looking at roses, sweet peas, hydrangeas and delphiniums may be your go to wedding blooms. If your vibe is boho – you may be more interested in textures, grasses, pampas, roses, eucalyptus and dahlias. There are no set rules on what flowers you need to use for your wedding, but I'd wholeheartedly advise following the season for the best flowers in look and in price.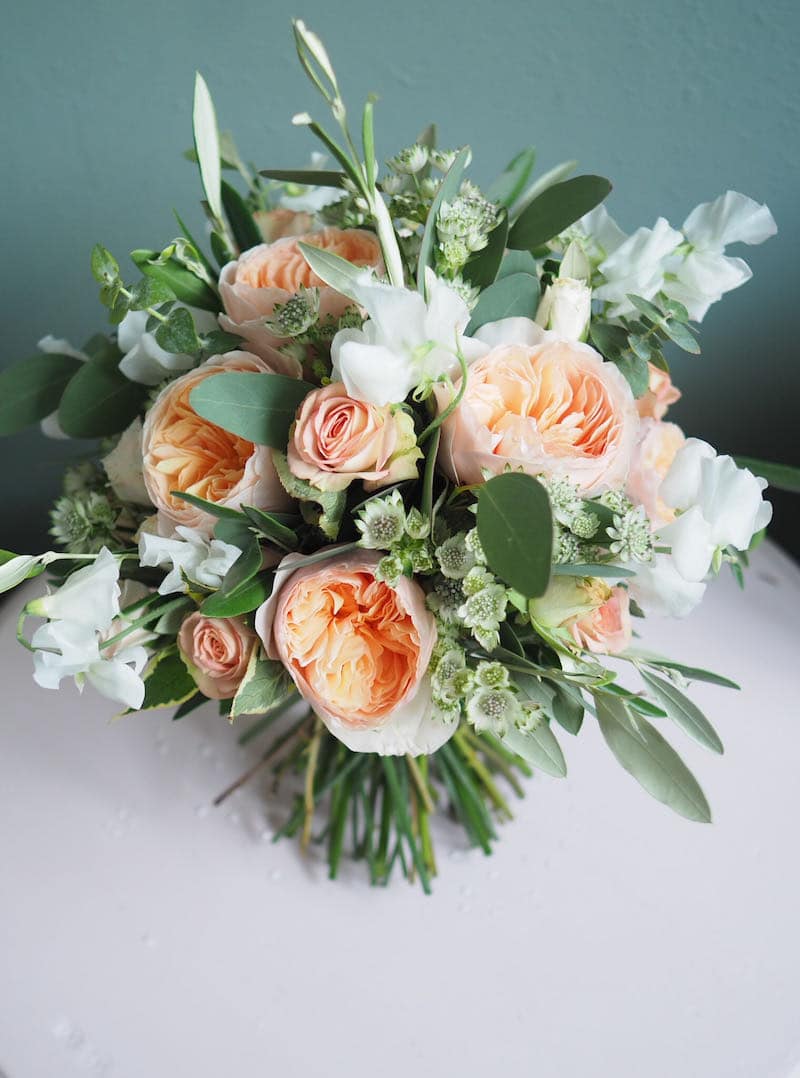 Classic wedding flowers don't have to be just lilies and roses. You could look at including more feminine flowers such as sweet peas, lily of the valley and soft greenery which will create a classic feminine feel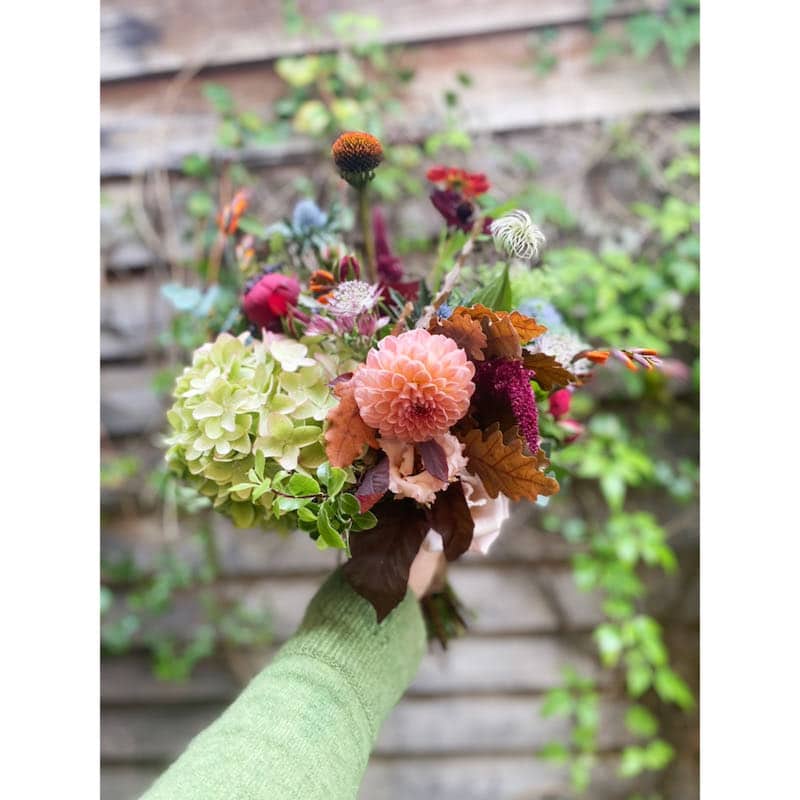 If you love unstructured flowers, always think about your texture and using unusual shapes. Seed pod heads, dahlias and grasses can be a lovely contrast to a more formal church setting
Where to put your wedding flowers in a church
You only have to look at some of the major Royal and Celebrity weddings to see that you can dress every inch of a church in flowers, but you don't always have to cram every nook and cranny with flora and fauna to making your church wedding flowers stand out.
They key to working out where to place your flowers is to think about the key moments of the day. I often refer to these as the 'photo moments'. Most people will have those photo moments in the following locations
Entering and exiting the church
Walking down the aisle
Saying your vows at the front of the church near the alter
It would be lovely to hang flowers from every beam and dress every windowsill, and if budget allows totally go for it because the space will look amazing! But if you're on a more modest budget, these areas are always the areas I suggest flowering first. They will have the most impact and they are also the areas where you'll have lots of photos taken.
Wedding Flowers at the church entrance
Statement pieces here are in vogue at the moment! Big flower arches, foliage semi arches, milk churns … the church entrance is your canvas! Your wedding florist will probably be able to advise what's going to work for you depending on your budget and look and feel, but I'm here to say, don't be shy with dressing the outside of the space. Having a statement piece here welcomes your guests - it's the first thing they see when they arrive. It's also the first magical moment you walk out into the world as a married couple. A church entrance is your blank canvas! Your wedding florist will probably be able to advise what's going to work for you depending on your budget and look and feel, but I'm here to say, don't be shy with dressing the outside of the space.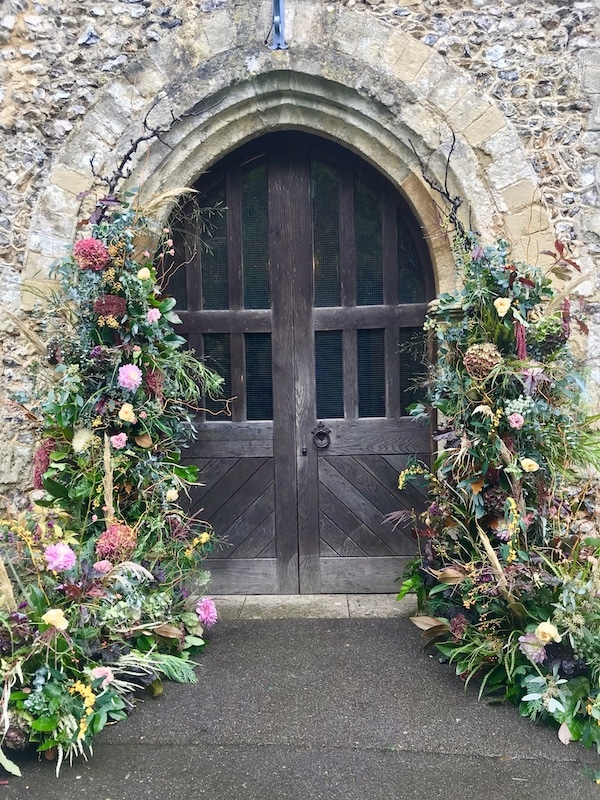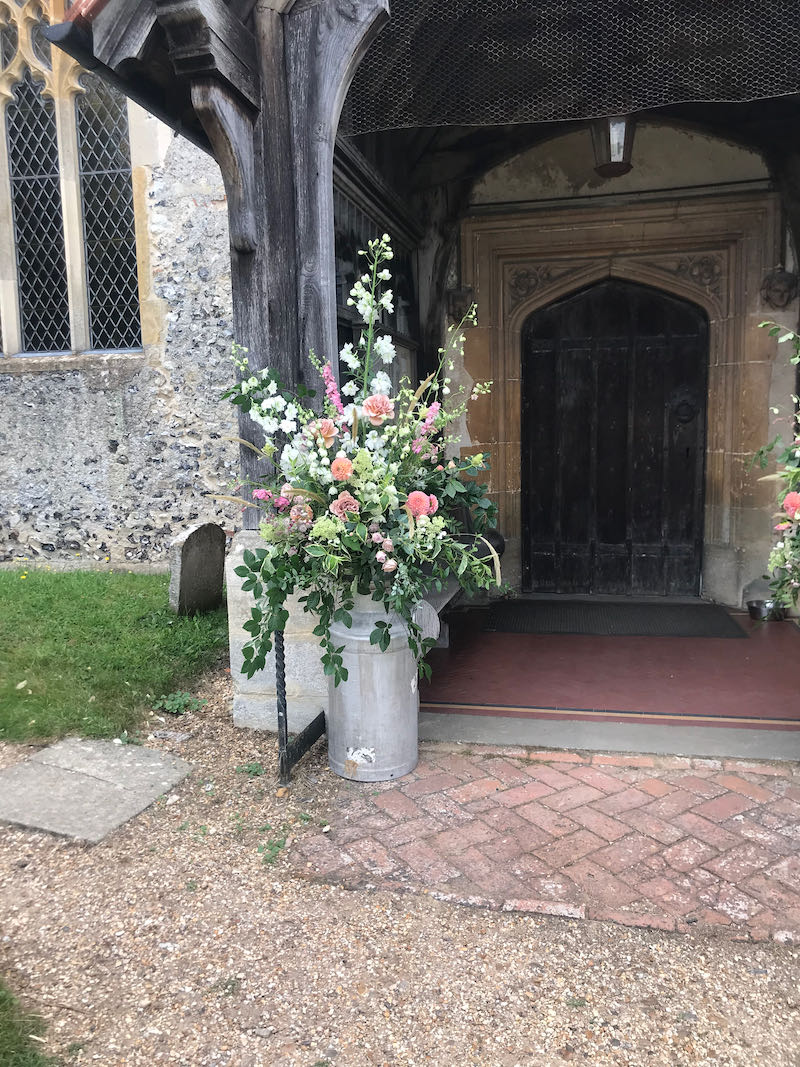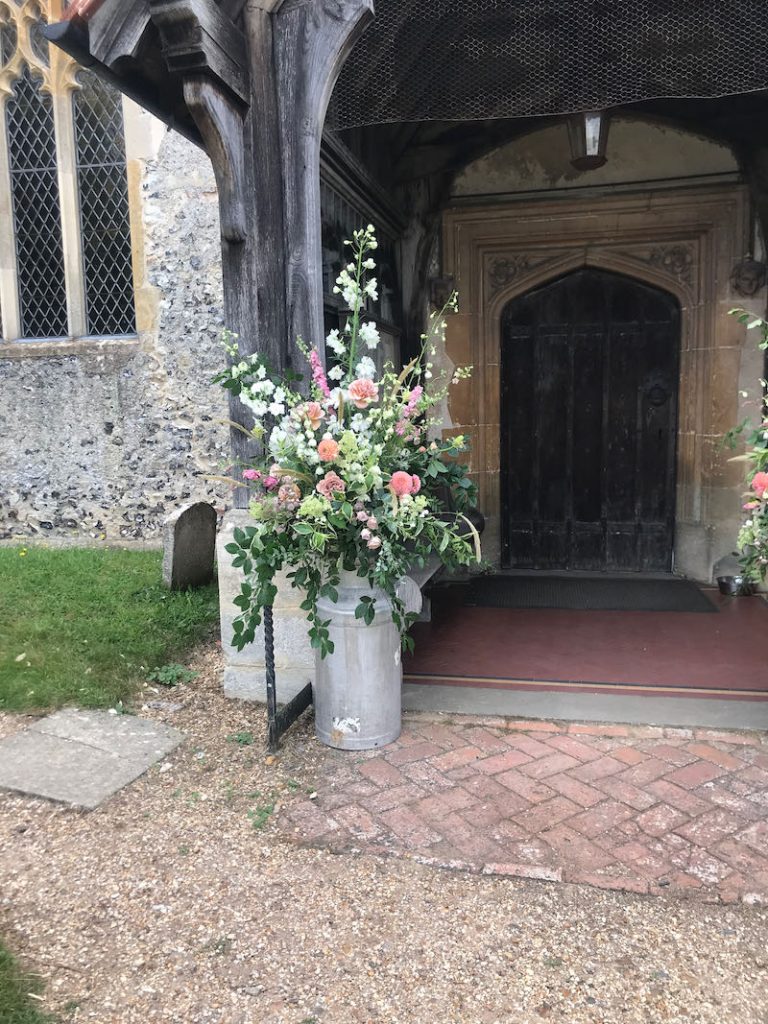 Milk churns can look amazing at the entrance of your wedding. Fill with taller statement flowers that tie in with your bridal bouquet. These are also perfect to re-use at your reception.
Wedding Aisle flowers
I've made some gorgeous elaborate aisle flowers before, right through to tying a single rose stem tied to the pew. For me it's not about dressing every pew, alternate will be just as beautiful. Having some flowers lining the aisle look magical and they are seen throughout the ceremony. It's always a must have flower item for me.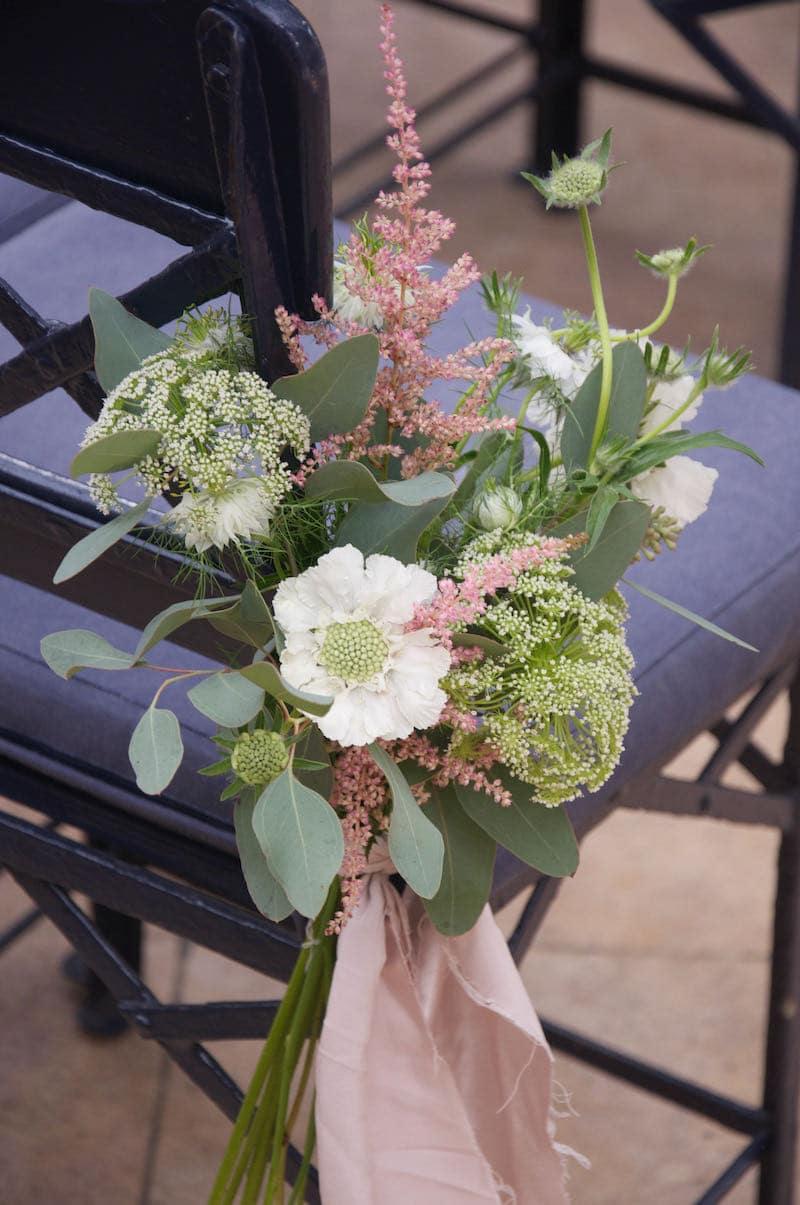 Flowers to line the aisles don't always have to be elaborate - even small bunches tied to the chairs with flowing ribbons to the floor look exquisite in churches
Flowers near to the alter
If you can't dress anywhere else with flowers, dress this space! You are going to be spending most of your time at the front of the church, so if you can, make these arrangements your must have statement pieces. You could go for large flower filled urns, vases of loosely arranged cow parsley or milk churns filled with foliage. Why not go for some large urn arrangements or even a less traditional milk churn arrangement. You are going to be stood near these flowers, your guests are going to be looking at them and you will also have lots of photographs taken here. Don't skimp on these – they are totally worth splashing out on.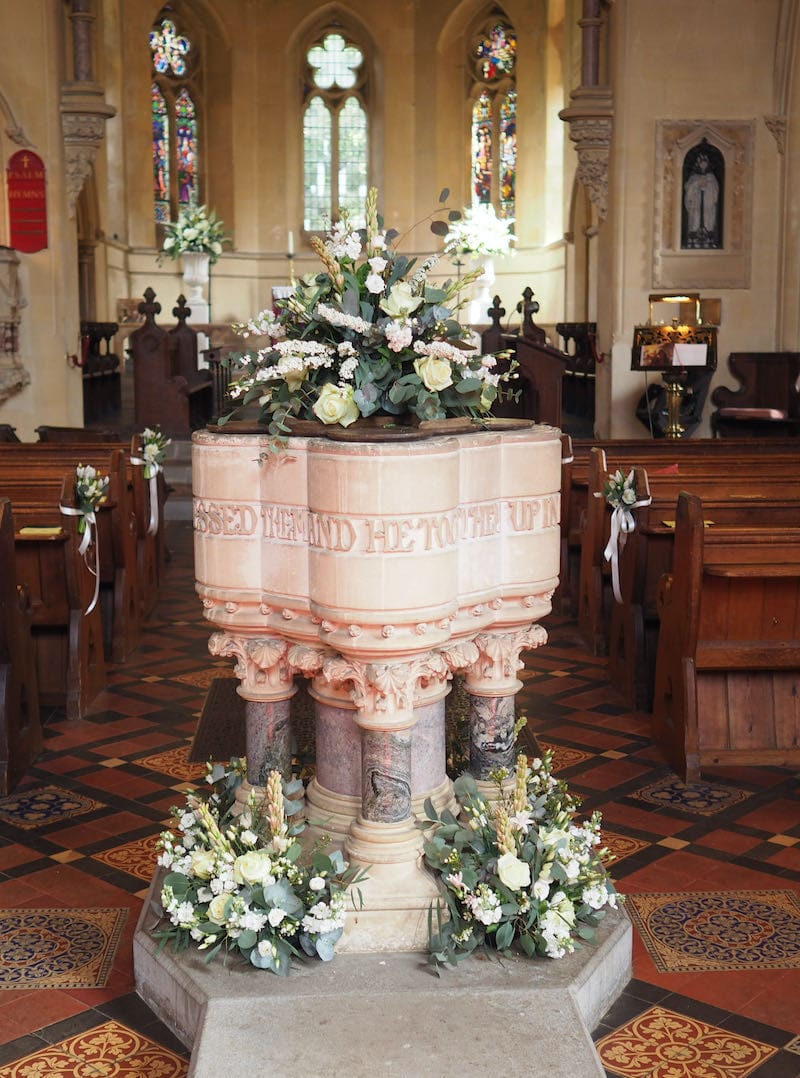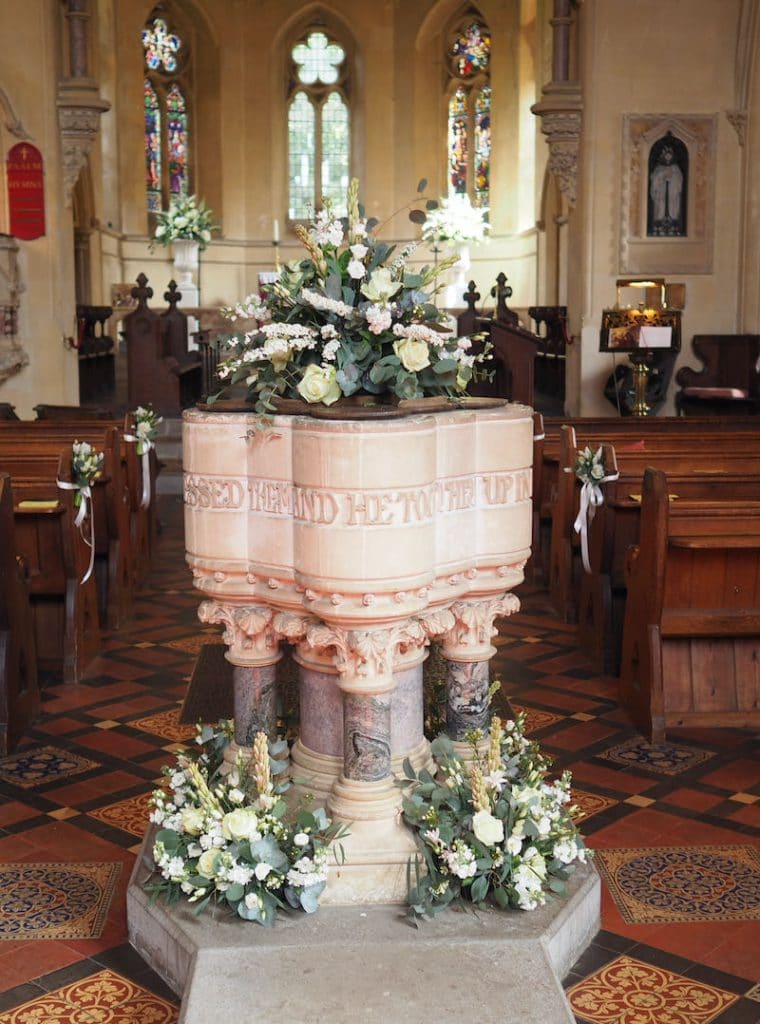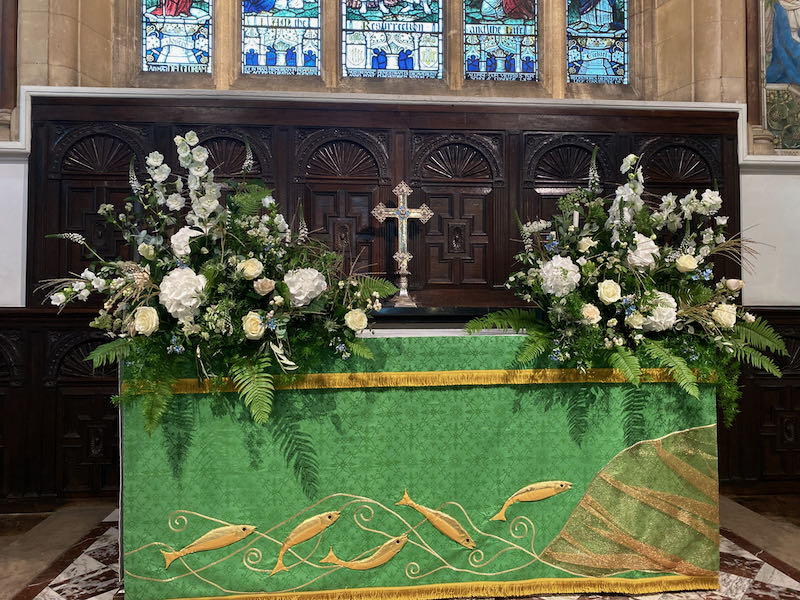 If you are not using the alter during your wedding ceremony, you can place arrangements on the alter. This later, formed one piece that was re-homed in front of the top table
How to repurpose those flowers at your wedding reception
When I talk to my couples about wedding flowers, we always think about how we can re-use your church flower arrangements. I understand the fact that you are not in the ceremony for a long time, I hope I have convinced you of the main areas that are a must for wedding flower décor.
Re-using your flowers is the perfect way to make sure you are getting the floral bang for your buck, so to speak! Not every flower from your ceremony will be able to be relocated. Archways, for instance, are incredibly hard to transport and take too long to set up at an alternative location, but things like your aisle end flowers and your alter flowers could be easily and quickly  relocated to dress behind your wedding breakfast top table, or perhaps decorate the bar.
There are endless possibilities on how you could re-use your church flowers! I always suggest asking your florist how you can re-use your flowers - a good florist will be able to give great advise on how to make the most out of your wedding flowers for your entire wedding day.