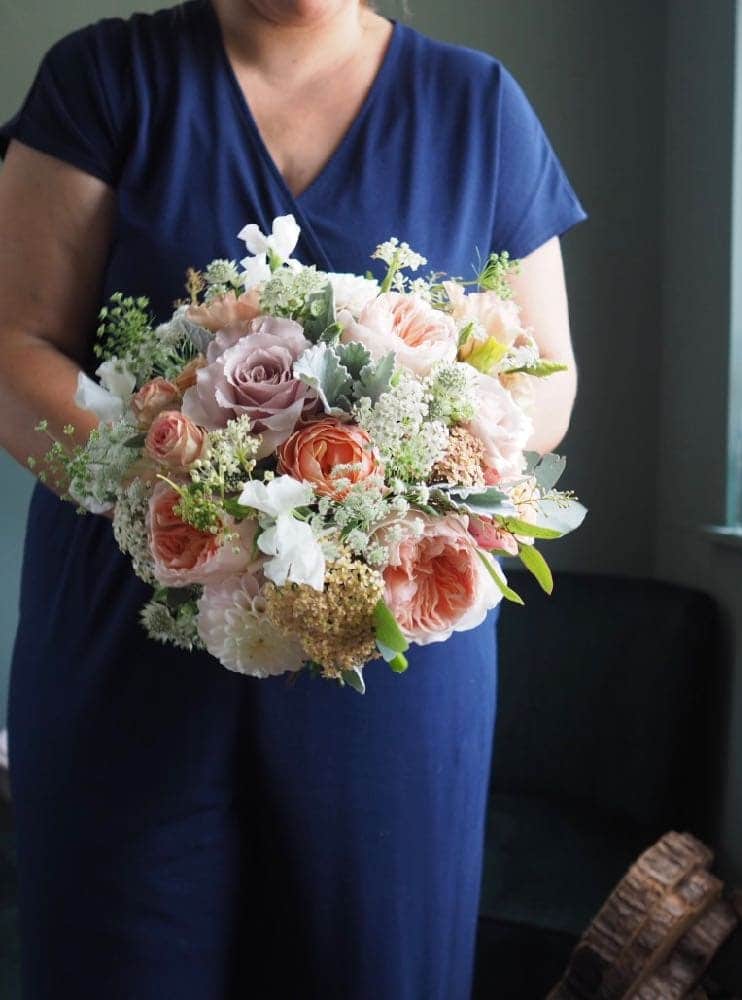 You absolutely need to see these pictures of Becky and Jack's wedding way back in August 2019 (I know, how did I get so slack at sharing things on our blog?) These two love-birds married at Carey Baptist Church and then danced the night away at Ufton Court. Becky came to us with a dreamy mood board filled with pictures of flowers I love. The palette; blush combined with a warm peach. It was a refreshing twist on the blush palette, which has been gracing our floral studio and Pinterest boards for sometime. Don't get me wrong, I'm a blush girl through and through, but it's always a treat to get some of my favourite roses in the studio (David Austin Juliette, if you're wondering) and combine them with all of summer's bounty.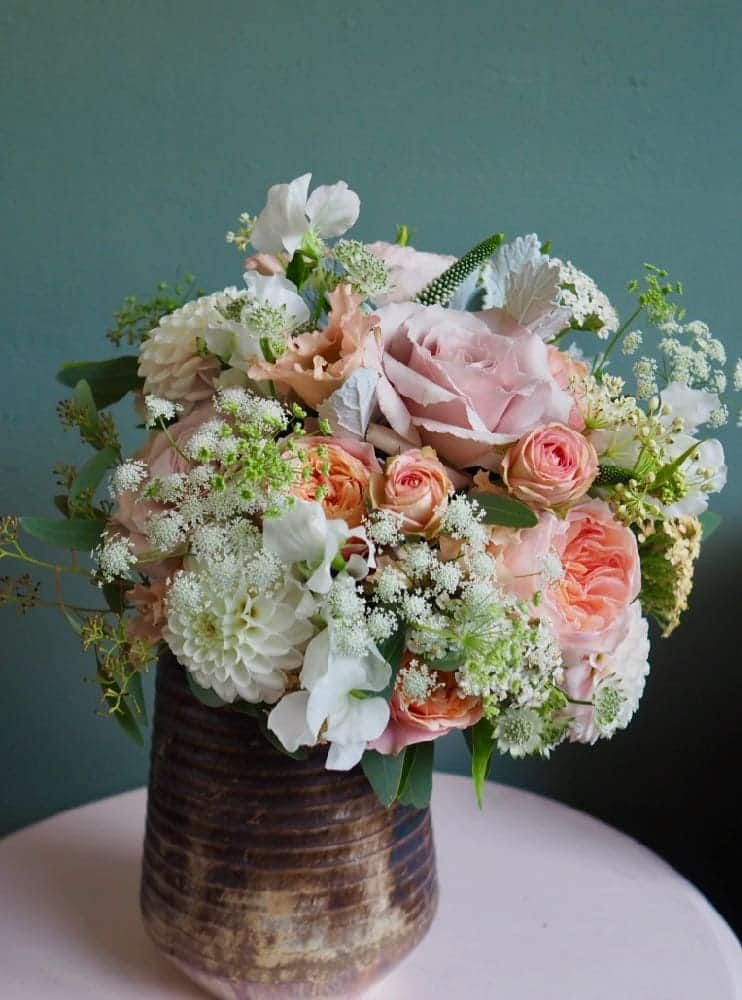 Becky's bouquet was filled with all of my favourites (did I mention those David Austin Juliette roses already?) including an array of roses from Quicksand through to Azore spray roses and those perfect Juliette's. Add in a sprinkle of sweet peas, some Queen Annes lace for that dreamy light texture, veronica for country looseness and eustoma mainly because the peach variety is just perfection.
Close up of all that feathery detail. These kind of textures are key to creating a loose garden bouquet. The more varieties of flowers you use the more just gathered it appears. as a general rule I tent to aim for a minimum of 10 varieties. Some say that sounds like a lot, but really you need this otherwise it becomes too stiff and uniform.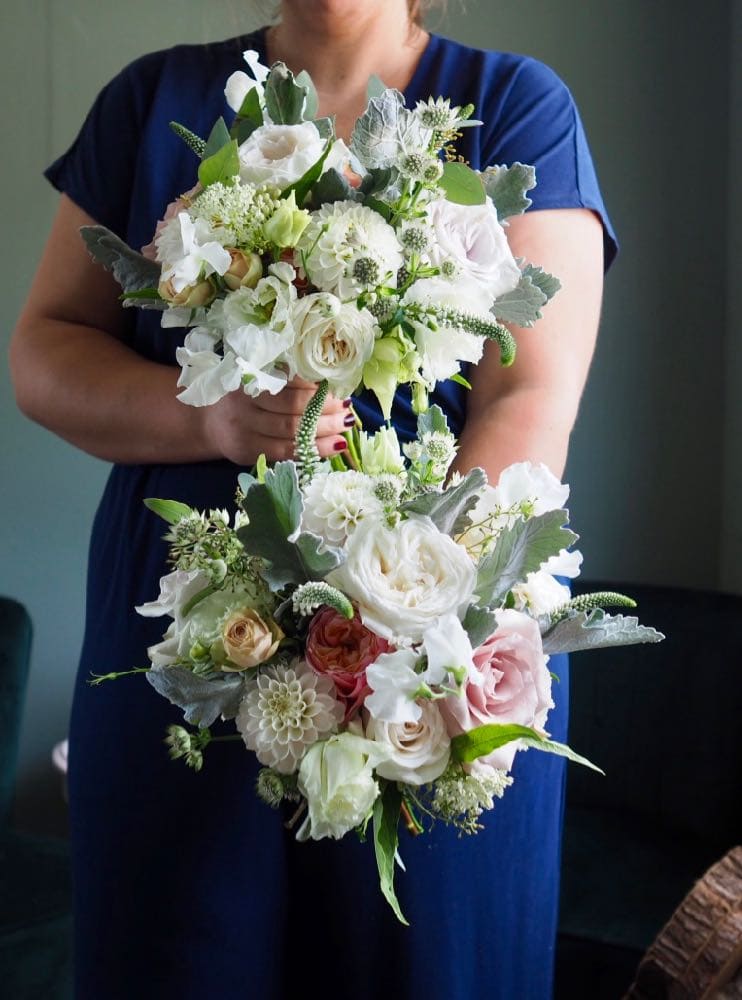 The maids waltzed down the aisle holding these, with a cheeky coral tone nestled in to tie in with their dresses. I'm a big fan of re-using bridesmaids bouquets as additional decor during the reception. This works especially well if you have a long top table - your florist can leave out some vases for your maids to quickly place the bouquets into after all the formal photographs have taken place. I'm a big believer in making your flowers go far!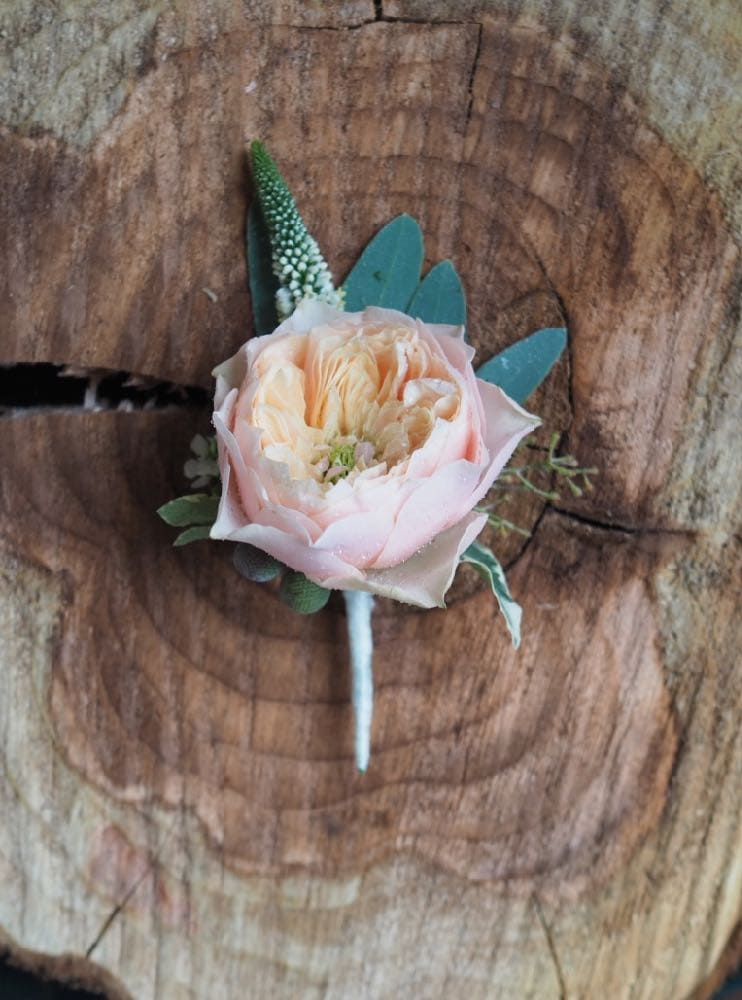 If I'm feeling fancy I often refer to these as the boutonnieres, said with a flourish! The men wore Sweet Vuvuzela roses as boutonnieres, simply arranged with some eucalyptus leaves and tied off with some satin ribbon. The binding on the boutonnieres makes such a difference to the finish - none of that horrid plastic tape here, we want luxury for the men, so only satin or silk will do.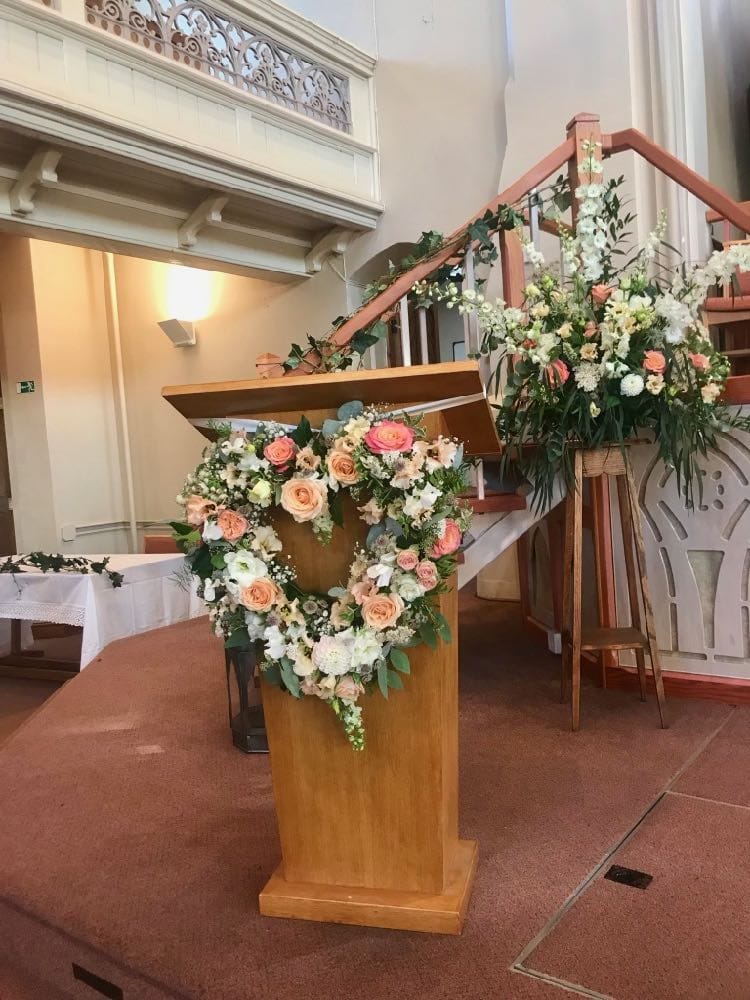 Carey Baptist church is in the centre of Reading and I've had the pleasure of providing flowers for a few of the congregations weddings. I've always received the warmest of welcomes from the church and it's always a pleasure to 'flower it up' a little. The exterior feels vast and daunting but gives way to a softer interior and a slightly challenging peach carpet. There is a huge seating area above, and a large stage on which the service takes place which was framed with two floral pedestals which we moved to Ufton Court after the service.. The reading box is a real central part of the service and Becky chose to highlight this with a beautiful floral wreath, which was relocated behind the top table for the reception.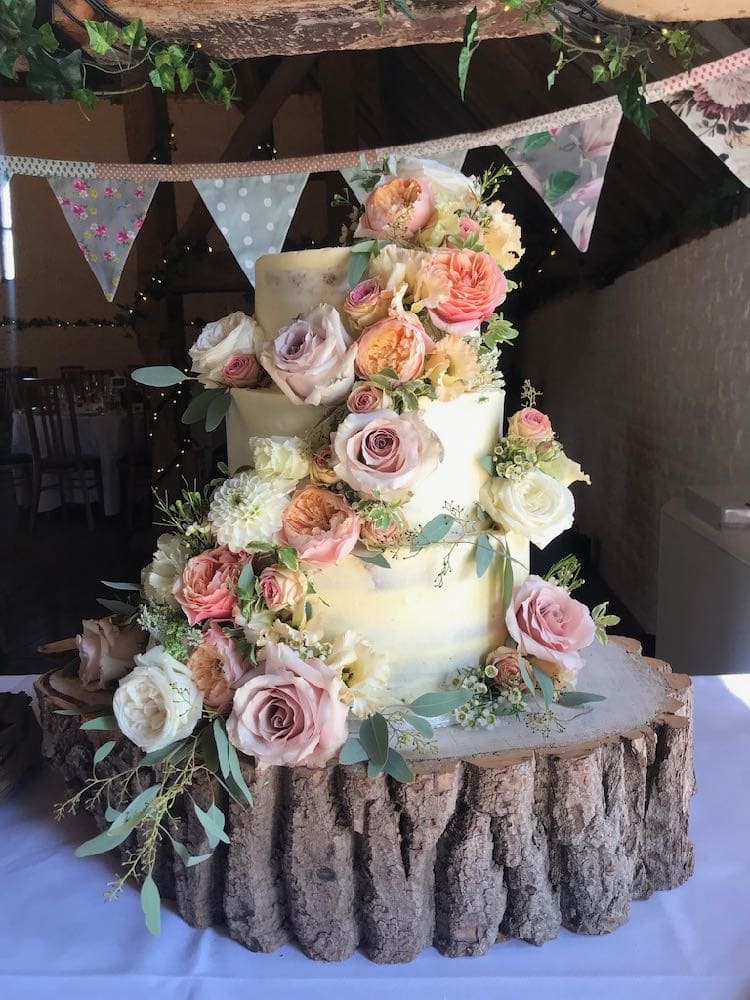 I frustratingly didn't take any pictures of the table decor - we decorated miniature glass lanterns with flowers spilling out and these were placed on a rustic log slice adding to the country vibe of Becky and Jack's big day. I did however manage to snap the cake! If you're going to decorate a cake, this is totally the way to do it! All the flowers for a huge statement piece!
I would love to know what you thought of the flowers, and equally if you're looking for wedding flowers we are now booking 2021/2022
Emmaxx